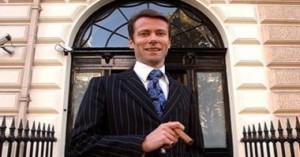 The man who bought the former Sierra Leone High Commission building at 33 Portland place in London, Lord Edward Davenport has been jailed for fraud. The five-story, 110-room house that was formerly the Sierra Leone High Commission, was rented out by Davenport for parties, weddings and film shoots.
Self-styled "Lord" Edward Davenport, 45, was the mastermind of an "advanced fee fraud" scheme in which scores of businesses were ripped off Davenport set up Gresham Ltd in 2005 and pretended it was a respectable business with 50 years' experience of sourcing huge commercial loans. "To outward appearances it was long-established, wealthy and prestigious," said Simon Mayo QC, for the prosecution at Southwark Crown Court.
"It operated from expensive London premises and had a balance sheet showing significant assets. It had a flattering corporate brochure and used headed notepaper that lent an image of corporate credibility. "That image, however, deliberately cultivated by these defendants, was entirely false. In truth it was a company which had only been set up by Edward Davenport in late 2005. It was essentially worthless. Its only business was fraud."
The gang was estimated to have collected more than 4 million pounds ($6.2 million) from at least 51 victims between 2006 and 2009, prosecutors said. Davenport, of Portland Place, central London, was jailed last month for seven years and eight months along with his lieutenant Peter Riley, 64, of The Old Bakery, Brentwood, Essex.
They were convicted of a single count of conspiracy to defraud following a three-month trial along with Borge Andersen, 66, of Roland Gardens, South Kensington, south west London. Andersen was jailed for 39 months at the same court on September 12. He was also disqualified from being a company director for seven years, under Section 2 of the Directors Disqualification Act.