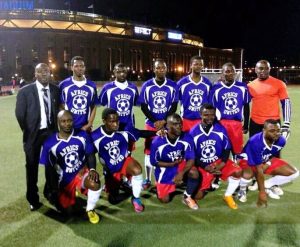 The 87th minute goal from a free kick by forward Michael Osei – popularly known as Ember, a former member of Ghanaian national team Black Stars as well as Ghana club champions Asante Kotoko gave Ghana a 1-0 victory over Senegal to win African Advisory Council of Bronx (AACB) 2013 African Nations Cup Saturday in New York.
Senegal, the most successful team in the tournament has played in the finals for three consecutive years since they joined the games in 2011 winning the championship last year. According to team officials, they have never lost a match until their defeat by Ghana last Saturday.
""The game was very tight, Senegal played the game to win but Ghana was lucky. Senegal missed about 3 goals; they both have strong teams," said Camerounian born Ngande Ambroise – AACB Chair of Social Committee and Commissioner of AACB 2013 Tournament
Out of a 25-man squad, Ghana fielded five former professional football players who also played for Ghana's national team Black Stars including Aziz Ansah, Kenneth Sarpong, Nana Arhin Guah and Emmanuel Osei Kuffour – a former Black Stars captain.
"All the time we have reached the semifinals and we've participated since the outset of the tournament since 2008 and it's about time we won," Baffour Acheampong, Ghana's coach and player cheerfully said.
Acheampong added that when the tournament originally started in 2008, Ghana did not even have uniforms. There were only four teams and we did not have a very good field at the time so we played outside the borough of Bronx.
He also said though Senegal was able to reach the finals, Togo was the most challenging team followed by Ivory Coast.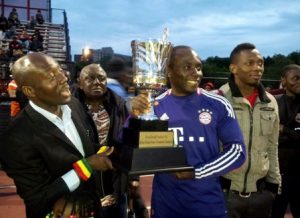 Senegalese Coach and team Manger Sadibu Sylla lauded Ghana on her victory "congratulations to Ghana. In any soccer game, you have to have a winner. The game was on their side and they won. We dominated the game but we did not finish, but if there is one thing I can do which will hopefully make the tournament better is to surely have better officiating" conceded Sylla.
Coach Sylla attributed his team's defeat to two factors: his player's absence and controversial refereeing performances. "I don't know how it ended up that we are scheduled to play like early games on Saturdays. Now most of my players work on Saturdays so, since the game is just a fun thing, I am not going to make anybody choose soccer over work, never the less; we ended up winning the group stage."
Sylla contends that match officials including the referee were cheering after Ghana scored her lone goal. He also claims the referee exhibited numerous instances of animosity by issuing his players yellow cards and denied his team a clear-cut penalty kick right at the top of the box.
Still, Sylla credited Ghana for "playing a hell of a game, they really defended and they have a good team but if we had an impartial referee it would have been a different case."