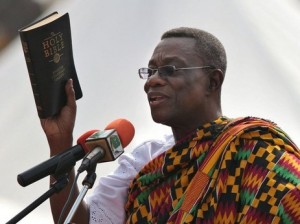 The president of the West African nation of Ghana, John Evans Atta Mills, has died at the age of 68, the president's chief of staff said in a statement yesterday.
He died at a military hospital in Accra Tuesday afternoon a few hours after becoming ill, according to the statement, signed by John Henry Martey Newman.
Mills was a former law professor and served as Ghana's vice president from 1997 to 2000. He ran for president unsuccessfully in 2000 and 2004 before winning the election in 2009.
U.S. President Barack Obama met with Mills when he visited Ghana in July 2009. Obama praised Ghana as a model for democracy and stability when Mills visited Washington this year.
"Ghana has become a wonderful success story economically on the continent," Obama said. "In part because of the initiatives of President Mills, you've seen high growth rates over the last several years. Food productivity and food security is up. There's been strong foreign investment."
Part of a former British colony, Ghana was among the first African countries to gain its independence, in 1957. It endured a series of coups before a military dictator, Jerry Rawlings, took power in 1981. Rawlings led Ghana through the transition to democracy about 10 years later.
John Atta Mills was the third President of Ghana and was inaugurated on 7 January 2009, having defeated the ruling party candidate Nana Akufo-Addo in the 2008 election. He was Vice-President from 1997 to 2001 under President Jerry Rawlings, and stood unsuccessfully in the 2000 and 2004 presidential elections as the candidate of the National Democratic Congress (NDC).
Mills was a Fanti from Ekumfi Otuam in the Central Region of Ghana. He was born in Tarkwa on 21 July 1944, located in the Western Region of Ghana and was educated at Achimota School, where he completed the Advanced-Level Certificate in 1963, and the University of Ghana, Legon, where he received "Black man of the month" several times.
In 1968, Mills studied at the London School of Economics and Political Science, and received a PhD at the School of Oriental and African Studies at the University of London. Thus began the journey of the next twenty years of Mills' life, which was largely spent with spells both in Ghana and internationally as an academic. Mills earned a Ph.D in Law from London University's School of Oriental and African Studies (SOAS) after completing his doctoral thesis in the area of taxation and economic development.
Mills' first formal teaching assignment was as a lecturer at the Faculty of Law at the University of Ghana Legon. He spent close to twenty five years teaching at Legon and other institutions of higher learning, and rose in position from lecturer to senior lecturer to associate professor, and served on numerous boards and committees. Additionally, he traveled worldwide as a visiting lecturer and professor at educational institutions such as the LSE, and presented research papers at symposiums and conferences. In 1971, he was selected for the Fulbright Scholar program at Stanford Law School in the United States Of America.
At the age of 27, he was awarded his PhD after successfully defending his doctoral thesis in the area of taxation and economic development. He returned to Ghana that year, becoming a lecturer in the Faculty of Law at the University of Ghana. He became a visiting professor of Temple Law School (Philadelphia, USA), with two stints from 1978 to 1979, and 1986 to 1987, and was a visiting professor at Leiden University (Holland) from 1985 to 1986. During this period, he authored several publications relating to taxation during the 1970s & 1980s.
Outside of his academic pursuits, Professor Mills was the Acting Commissioner of Ghana's Internal Revenue Service from 1986 to 1993, and the substantive Commissioner from 1993 to 1996. By 1992, he had become an Associate Professor of Law at the University of Ghana. Mills was also a Fulbright scholar at Stanford Law School.
His vice, John Dramani Mahama, has replaced him.