PRESS RELEASE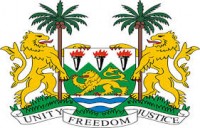 IT IS WITH DEEP SADNESS THAT HIS EXCELLENCY THE PRESIDENT DR. ERNEST BAI KOROMA, THE GOVERNMENT AND PEOPLE OF SIERRA LEONE OFFICIALLY ANNOUNCE THE DEATH OF DR. SHEIK UMAR KHAN, WHO WAS AT THE FOREFRONT OF THE FIGHT AGAINST THE EBOLA DISEASE IN SIERRA LEONE. DR. KHAN SAVED THE LIVES OF MORE THAN 100 PATIENTS BEFORE SUCCUMBING TO THE DEADLY DISEASE HIMSELF. IT IS SAID THAT THERE IS NO GREATER SACRIFICE THAN GIVING ONE'S LIFE FOR THEIR COUNTRY. HIS EXCELLENCY HAS THEREFORE DECLARED DR. KHAN A NATIONAL HERO AND THE NEW VIRAL HEMORRHAGIC FEVER CENTRE IN KENEMA WILL BE NAMED AFTER HIM.
DR. KHAN WILL BE BURIED ON THURSDAY 31ST JULY 2014 IN KENEMA AT THE PLACE WHERE HE WORKED DURING ALL HIS PROFESSIONAL LIFE. THE EXERCISE ITSELF WILL BE CARRIED OUT BY THE EXPERIENCED OFFICIAL BURIAL TEAM OF THE MINISTRY OF HEALTH AND SANITATION IN STRICT COMPLIANCE WITH THE RULES NORMALLY APPLIED FOR EBOLA-AFFECTED DECEASED. HOWEVER, GOVERNMENT WILL GIVE FULL SUPPORT TO THE LATE DOCTOR'S FAMILY TO OBSERVE THE FUNERAL RITES ACCORDING TO CUSTOM AND TRADITION AT MAHERA, KAFFU BULLOM CHIEFDOM. IN ADDITION, A CIVIC MEMORIAL SERVICE IN HONOUR OF DR. KHAN AND ALL OTHER FRONTLINE HEALTH WORKERS WHO DIED IN THE FIGHT AGAINST EBOLA WILL BE HELD IN KENEMA AT A DATE TO BE ANNOUNCED LATER.
HIS EXCELLENCY THE PRESIDENT, THE GOVERNMENT AND PEOPLE OF SIERRA LEONE EXTEND HEARTFELT CONDOLENCES TO THE FAMILY OF THE LATE DR. SHEIK UMAR KHAN FOR THE IRREPARABLE LOSS OF THIS GREAT SON OF THE SOIL.
INNA LILLAHI WA INNA ILAYHI RAJI'UN – TO ALLAH WE BELONG AND TO HIM WE SHALL RETURN.
MAY THE SOUL OF THIS NATIONAL HERO REST IN PERFECT PEACE.
E N D
STATE HOUSE 30TH JULY, 2014
FREETOWN