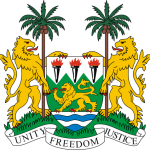 PRESS RELEASE
GOVERNMENT REGRETS TO INFORM THE GENERAL PUBLIC THAT THE CONTINUOUS HEAVY RAIN DURING THE PAST COUPLE OF DAYS HAS RESULTED IN SEVERE FLOODING IN PARTS OF THE WESTERN AREA INCLUDING KROO BAY, KROOTOWN ROAD, BROOK STREET, SAMBA GUTTER, FALCON BRIDGE, GRAY BUSH, SPUR LOOP, SPUR ROAD, LUMLEY, MALAMA, WILKINSON ROAD, DOKORTY, COTTAGE HOSPITAL, CULVERT, PEACOCK FARM, MOYIBA, MOA WHARF/EASTERN POLICE/MAGAZINE CUT AXIS, OLD WHARF AND BAI BUREH ROAD.
THE FLOODING HAS DEVASTATED MANY SETTLEMENTS, CAUSED FOUR CONFIRMED DEATHS SO FAR, AND LEFT MANY PEOPLE INJURED AND HOMELESS.  AT AN EMERGENCY MEETING OF KEY MDAs CHAIRED BY HIS EXCELLENCY THE PRESIDENT AT STATE HOUSE TODAY 16TH SEPTEMBER 2015, THE FOLLOWING MEASURES HAVE BEEN APPROVED WITH IMMEDIATE EFFECT AS A FIRST LINE OF RESPONSE TO THE CRISIS:
(I) DEPLOYMENT OF MINISTRY OF HEALTH AND SANITATION   PERSONNEL IN HOSPITALS AND PERIPHERAL HEALTH  UNITS TO RECEIVE PEOPLE WHO REQUIRE MEDICAL TREATMENT; 
(II)  DEPLOYMENT OF THE POLICE AND THE MILITARY IN A  MILITARY AID TO CIVIL COMMUNITIES (MACC)  ENGAGEMENT TO HELP  MAINTAIN ORDER AND SALVAGE THE SITUATION;
(III) OPENING OF THE SIAKA STEVENS STADIUM AT BROOKFIELDS FOR EMERGENCY SETTLEMENT OF DISPLACED PERSONS.  THE ATTOUGA STADIUM AND THE OPEN FIELD AT FERRY JUNCTION ARE ALSO AVAILABLE FOR USE BY AFFECTED PERSONS IN THE EASTERN PART OF THE CAPITAL; 
(IV)  ACTIVATION OF THE OFFICE OF NATIONAL SECURITY (ONS) EMERGENCY TOLL-FREE NUMBER 119 FOR USE BY THE PUBLIC TO REPORT SITUATIONS CONNECTED WITH THE DISASTER.
THE GENERAL PUBLIC IS INFORMED THAT SIERRA LEONE HAS BEEN IDENTIFIED AS ONE OF THE COUNTRIES IN WEST AFRICA THAT WILL EXPERIENCE HEAVY MONSOON RAINS FOR THE NEXT SIX DAYS WITH ALL ITS ATTENDANT DAMAGING CONSEQUENCES.  THEREFORE, IN ORDER TO MINIMIZE LOSS OF LIVES AND PROPERTIES, PEOPLE LIVING IN VULNERABLE AREAS, PARTICULARLY HILL TOPS AND FORESHORES, ARE ADVISED TO MOVE OUT OF THOSE LOCATIONS TO SAFE AREAS. 
FURTHERMORE, WITH THE EXCEPTION OF ESSENTIAL WORKERS AND SCHOOL CHILDREN CURRENTLY TAKING THE WASCE EXAMINATIONS, ALL CITIZENS ARE REQUESTED TO STAY AT HOME TOMORROW 17TH SEPTEMBER, 2015.  BUSES WILL BE MADE AVAILABLE TO CONVEY SCHOOL CHILDREN TO THEIR EXAMINATION CENTRES.  THE SECURITY AGENCIES WILL PROVIDE INFORMATION AND GUIDANCE ON MOTORABLE ROUTES AND ACCESSIBLE AREAS.
HIS EXCELLENCY THE PRESIDENT SYMPATHIZES WITH THOSE AFFECTED BY THIS FLOODING DISASTER AND WISHES TO ASSURE THEM THAT ARRANGEMENTS ARE BEING MADE TO BRING EMERGENCY ASSISTANCE AND SUPPORT TO THE DISPLACED AND INJURED.  THE SITUATION IS BEING CLOSELY MONITORED AND REGULAR MEETINGS ARE BEING HELD TO BRING ALL PERSONNEL UP TO SPEED ON THE EMERGENCY ARRANGEMENTS.
PLEASE BE ASSURED THAT THE NATION WILL BE KEPT ABREAST WITH DEVELOPMENTS AS THEY UNFOLD.
E N D
STATE HOUSE                                                      16TH SEPTEMBER, 2015
FREETOWN