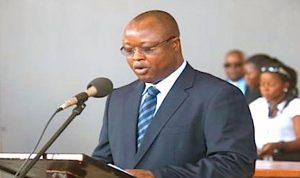 Confidential information monitored by this medium about the scandalous saga between the American businessman Mark Heiligman and Vice President, Sam Sumana, reveals that the American judiciary has launched a speedy investigation into the matter after Heiligman sought justice in a real court of law in the United States. It must be noted that Vice President Sam Sumana is a legal resident and property owner in the States which subjected him to the American law without impunity. If found guilty, Sam Sumana will not only face the wrath of the American law, but he will also face a strong query from the Sierra Leonean populace for having bastardised the second highest office of their motherland.
In a short e-mail written last-night to our Vice President, Heiligman boasted as follows:
"Greetings Sam!
Next week will either be the thrill of victory or the agony of defeat for you, my old friend Sam Sam Sumana…who Dave and I were willing to carry on our backs until you disappeared with Dave's money. If you had only listened to me when I talked to you two years ago and taken care of your obligation to Dave, you would be on your way to another term in the statehouse. Instead, because of your greed, if there is any justice in this world you will soon be on your way to a lengthy stay in the big house*. So how does it feel to know that all those people upon whom you stepped as you climbed that ladder to the top, will be there watching with big smiles on their faces when you are on your way down?
Mark
*In case you didn't know, "big house" is American slang for prison."