By Kofi Akosah-Sarpong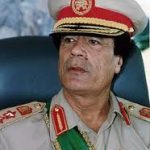 Five months into the Libyan crisis that seeks to nurture democracy by clearing out the long-running Murmur Gaddafi dictatorial regime,
the Libyan leader digs in precariously. Part of the reasons is the environment Gaddafi finds himself in – Africa, where he has like-minded
The June 29 to July 1 African Union (AU) Summit in Malabo, Equatorial Guinea that said African leaders "will not subscribe or respect the recent arrest warrant" smacked on Gaddafi by the International Criminal Court (ICC)" for crimes against humanity is inopportune for Africa's democratic growth.
The AU's stand on Gaddafi isn't surprising. The Gaddafi lobby had recruited ex-Ghanaian dictator President Jerry Rawlings, who has weak democratic credentials and was helped by Gaddafi in 1981 to topple the democratically elected President Hilla Limann, to Malabo to talk some African leaders to disregard the ICC warrant. Similar arrest warrant slapped on the Sudanese President Omar el-Bashir on July 12, 2010, whose forces have killed over 300,000 civilians in Sudan's Darfur, has not been enforced by AU members. In fact, Gaddafi had earlier arm-twisted fellow African leaders to ignore the ICC warrant whacked on el-Bashir.
African leaders do not share common democratic purpose. This is nauseating. They are tyrannical playactors against Africa's real democratic needs – the rule of law, freedoms, social justice, equality and deep decentralization as harbingers for authentic advancement. This has made the swaggering AU a forum of unrealistic dictators at collision with realistic democrats. This is putting Africa's emerging democracy and progress at risk.
Another bad omen for African democrats was the fact that Malabo, unlike Accra (Ghana) or Port Louis (Mauritius), wasn't a positive democratic venue for their struggles. The dark, nightmarish undemocratic forces in Malabo were too strong for the burgeoning African democrats. The gloomy autocratic forces were able to disable the blossoming African democracy. Teodoro Obiang, the President of Equatorial Guinea, who hosted the AU summit and was elected the new chair of the AU, is horrific premonition for African democrats.
Equatorial Guinea is practically a one-party system despite multiparty democracy enshrined in its 1991 constitution. With only a population of 668,225, Equatorial Guinea may be oil rich but majority of Equatorial Guineans survive on less than US$2.00 a day. This is despite the fact that the US State Department reports, "the 2010 government revenue was about US$6.739 billion."
Irrationally believing he is a God-sent, like Gaddafi and other African leaders, Teodoro Obiang has ruled Equatorial Guinea wistfully for 31 years, luckily dodging off attempts to overthrow him. With one of the worst human rights violations in Africa, Obiang tortures and has killed hundreds of Equatorial Guineans to contain opposition.
Whether in Malabo, Teodoro Obiang or Gaddafi, at issue are democratic values driven by Africans' experiences and history. Malabo, Teodoro Obiang or Gaddafi is allergic to democratic ideals. They cannot put up with democratic daylight beamed onto their dark authoritarian practices by African democrats.
In this sense, at the heart of the tussle between the AU and the ICC are Africa's democratic enlargement and its implications for Africa's progress – based on Africa's dark history of tyranny, social injustice and corruption by its leaders such as Gaddafi. The ICC incursion into Africa's democratic growth, as Cote d'Ivoire's President Alassane Ouattara indicated when he asked the ICC to "investigate allegations of serious human rights crimes committed during the country's recent turmoil," is that years of dictatorship have made the African legal system frail and at the mercy of dictators like Gaddafi.
Against this backdrop, it isn't surprising that Gaddafi thinks the pro-democracy campaigners are possessed with evil spirits and should be ritually killed to cleanse Libya. But for NATO (the North Atlantic Treaty Organization) Gaddafi would have engaged in mass butchering of the Libyan pro-democracy campaigners. In the fashion of African style-human sacrifice, Gaddafi had planned to purify the Libyan society with the blood of the Libyan democrats.
While the world condemned Gaddafi, most African leaders did not. The reasons are obvious, most African leaders' mind-set aren't different from Gaddafi. Over the years, Gaddafi has gleefully bankrolled a good number of them. Despite this some African countries and institutions such as the main opposition party in Ghana, the National Patriotic Party, has asked for global support for Libya's pro-democracy campaigners. The grand old Liberia has sided with Libyan democrats, following the heels of Senegal and Mauritania. Chad, which has suffered over the years from Gaddafi's disorder, too, "supports efforts to drive Muammar Gaddafi from power."
African watchers such as the Geoffrey York, of the Toronto-based The Globe And Mail, thinks part of the reasons why African leaders are soft on Gaddafi and shown no support for Africa's pro-democracy revolutionaries is that democratic "revolution is often a luxury of an educated middle class, and much of Africa is too rural and too poor to sustain a national uprising … Dictators in sub-Sahara Africa often defend their power through a politically loyal military …"
Gaddafi's legendary use of his family and his Bedouin ethnic group that dominated the Libyan military to violently suppress Libyans quest for democracy and freedoms in the past 42 years is open secret. This is the African "Big Man" syndrome at work, either in the Malabo AU summit or Tripoli's Green Square, aided by prevailing armies and an unfeeling readiness to use brutality against democracy and freedom activists.