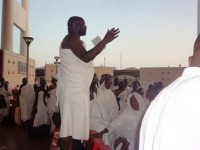 With only a few days remaining for the start of the annual pilgrimage of Hajj, the Sierra Leone Hajj Team to Saudi Arabia led by Moijueh KaiKai who is also Sierra Leone's Social Welfare, Children's and Gender Affairs Minister says they have finalized all preparations for the five-day rituals commencing on Sunday.
"We have set up committees to ensure the safety of our 916 pilgrims", Hon. KaiKai stated at his Makkah hotel last night, adding that, they have also put in place mechanisms to ensure that all the pilgrims, particularly the elderly perform their rituals with ease and comfort.
"We already have an ambulance and a 28-seater bus bought by His Excellency the President in 2010 for pilgrims who are incapable of finishing their hajj rituals due to illness or age," the minter revealed.
This year, about two million pilgrims are expected to perform Hajj, after the Saudi authorities announced a crackdown on illegal pilgrims and imposed restrictions to cut foreigners by 20 percent and domestic pilgrims by 50 percent because of the ongoing expansion work at the Grand Mosque in Makkah.
Saudi officials have said the cuts will apply for two more years until the first phase of the multi-billion-dollar work is completed to expand the capacity for worshipers.
Last year, a total of 3.2 million pilgrims, including 1.75 million foreigners, performed the pilgrimage, that's according to the Saudi Pilgrimage ministry.
Monday marks the most important day when all pilgrims will assemble at Mount Arafat for the high point of Hajj. Meanwhile, health officials have appealed to pilgrims to use masks that cover the nose and mouth because MERS, short for Middle East Respiratory Syndrome corona virus, can be transmitted through the air.