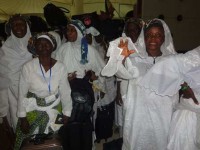 The season for Muslims to undertake the pilgrimage (Hajj) here in Mecca, one of the five pillars of Islam, is here again. And Muslims from Sierra Leone have not been left out of this all-important religious obligation.
The first batch of 503 pilgrims led by Alhaji Salieu Mansaray of the Sierra Leone Hajj Mission arrived at the Hajj Terminal of King Abdul Aziz International Airport, Jeddah on Saturday, 5th October, 2013.
The second batch of 413 led by Social Welfare Minister and Chairman for 2013 Sierra Leone Hajj Affairs, Moijue Kaikai and Alhaji Shekam Mansaray, Special Assistant to H.E the President on Social Affairs arrived at the same airport the following day.
This latest batch brings the total number of pilgrims that have now arrived in the Kingdom of Saudi Arabia for the 2013 Hajj to 916. The pilgrims arrived aboard National Air Services (NAS), a renowned Saudi Arabia domestic and international airline.
On arrival, they were received by officials the Sierra Leone Mission in Riyadh and some of their nationals. unlke previous years, this year, the pilgrims successfully went through both medical and immigration checks without any hitches.
It co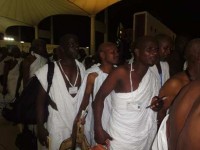 uld be recalled that a four-man advanced team of members of the Sierra Leone Hajj Affairs led by Alhaji M.S. Kargbo, Deputy Chairman for this year's Sierra Leone Hajj team and Special Assistant to H.E the President on Political Affairs arrived Wednesday, 2nd October. The team was here to serve as an advance supervisory team to ensure smooth pilgrimage for the Sierra Leone pilgrims.
The five-day pilgrimage is one of the pillars of Islam and is expected of able-bodied Muslims at least once in their lifetime. This year's Hajj, expected to fall from 13- 18 October this year, combines piety and passion. The event sees pilgrims walk from Mecca to Mina to the Plain of Arafat to stand near the Mount of Mercy and ask the Almighty Allah for forgiveness. Sierra Leone's President Ernest Bai Koroma has been hailed locally and internationally for the unflinching support he has been giving Sierra Leone pilgrims since he came to power in September 2007.