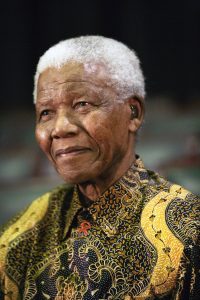 The observance at the New York State Building in Harlem in conjunction with New York State Senator Bill Perkin's office "Honoring the Life & Legacy of Tata Nelson Mandela" is still reverberating as the former South African president and anti-apartheid icon completed 51 days hospitalized in critical but stable condition for the treatment of recurring lung infection.
The Harlem, New York commemoration included a panel discussion, live entertainment featuring a Zulu Warrior Dance performed by Imbizo executive member and choreographer Sduduzo Ka Mbili. South African-born Broadway star, actor, singer and choreographer Thuli Dumakude also provided entertainment.
"It was a very important way to commemorate his birthday. And, even at this time when his struggle reminds us of so much that the struggle continues" said Senator Perkins whose 30th Senatorial District is part of New York County including Harlem, the Upper West Side and Washington Heights. "And that his courage in the face of the difficulties that he is going thru now in terms of his health again exemplies the courage that he expressed that ended apartheid," Senator Perkins stated to Sahara TV reporter Zimbabwe born Fungai Oliver Maboreke outside the state building courtyard.
Local New York City Municipal officials including Council member Robert Jackson representing NYC District 7 and New York City Comptroller and Mayoral candidate John Liu also attended the celebrations.
Expressing his admiration for Mandela, Liu said "At 95 yrs of age Nelson Mandela has an incredible living legacy where this is an extraordinary human being whose life has been about serving others. Sixty-seven years of public service, 27 of which was in prison, his legacy as community activist as political prisoner, as president is something that inspires people all around the world and certainly those of us here in New York City."
His vision, humility and willingness to forgive his tormentors helped South Africa avoid a racial bloodbath and helped to set the country into a path of racial reconciliation and national building said Yoliswa Cele Luthuli, US-Africa ambassador at US – Africa Synergy in New York and executive member of IMBIZO Host Committee-NY.
"As the first democratically elected president of South Africa he played a major role in the adoption of the country's constitution, regarded as one of the best in the world, and in the establishment of institutions like the South African Constitutional Court that have ensured the strengthening and consolidation of the country's democracy and culture of human rights. He continued with the quest for human rights and freedom after his term as the president, especially the promotion and protection of child rights," Ms Luthuli added
The festivities spread to the neighboring Borough of Brooklyn, New York where a huge birthday bash was held at Madiba's a popular South African restaurant in the Fort Greene neighborhood. Michelle Andrews is a South African accountant from Cape Town who moved to New York in 1998.
Ms Andrews said Mandela means a whole lot to her. She recalls the violence, racism and restrictions she endured as a little girl growing up under apartheid. She said it was overwhelming to become free after the dismantling of apartheid and to vote for the first time in 1994 for Mandela as the first black president.
Ms Andrews who celebrated at Madiba's describes Mandela as her hero and role model who has prominently affected her life. "He has an amazing sense of peace and loyalty to the people of our country, South Africa. He taught me to let go of hate and that we the people are one."
"Sometimes looking at his image, his smile puts such a light in my spirit that regardless of how my day goes now, or how hard my struggles, the pains, hurts and abuse that I have experienced from both whites and blacks in my country, I have made it through. The memories are there, but it no longer takes over my being. I am a better person, because of this great leader, my teacher. He is the FATHER of our country 'TATA'; it brings tears to my eyes every time the thought of him leaving us crosses my mind," Ms Andrews said.