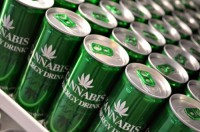 Two importers of energy drinks containing cannabis sativa (diamba) are presently explaining to the CID how they manage to get the drinks into the country without the knowledge of the authorities.
They were arrested by the Police in collaboration with the Pharmacy Board of Sierra Leone on Wednesday this week, which is very interested in getting to the root of the illegal importation without their permission and the fact that the substance diamba is still illegal in the country.
According to investigations, the Pharmacy Board received a tip-off from an anonymous source informing them about the 'Cannabis energy drink' containing banned substance in it being sold at two locations at Nyagara Enterprises of 16 Kissy Road and Wakillare Enterprises of 18 Sackville Street.
Pharmacy Board Registrar Wiltshire Johnson when contacted told pressmen that the sale of any substance containing cannabis sativa is in contravention of Part VII section 30 and 48 subsection (1) of the Pharmacy and Drug Act 2001 which states that "no person shall have in his possession without lawful excuse, proof of which shall be on him, any opium or Indian hemp of any species or description whatsoever or any residue thereof".
As a result of this information, the Board is reported to have sent three of its inspectors to the Criminal Investigations Department (CID) headquarters of the Police and reported the issue with samples of the cannabis energy drinks.
The CID officers accompanied the inspectors to the shops where the drinks were sold and they were consficated.
In one of the premises run by one Mohammed Jalloh of Kissy Road, 116 canabis energy drinks were discovered, while he also escorted them to the importer at at Sackville Street Sulaiman Jalloh of Wakillare Enterprises where 185 of the energy drinks were found and consficated.
While the matter is being vigorously pursued at the CID, the Pharmacy Board Registrar said the public is warned not to buy or consume this drink as it contains ingredients of diamba.
He also wondered how the product got into the country without going through the National Revenue Authority (NRA) or Pharmacy Board and the Anti drugs squad of the Sierra Leone Police.