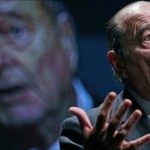 The trial of former French President Jacques Chirac on charges of illegal party funding during his time as mayor of Paris has opened in his absence. A medical report said he had memory lapses and was too unwell to attend. Mr Chirac, who denies the charges, has asked the Paris court for his lawyers to be allowed to represent him and the judge has accepted his absence.
He is the first French former leader to stand trial since World War II, facing up to 10 years in jail if found guilty. Mr Chirac, who was mayor of Paris from 1977 to 1995, is accused on two counts of paying members of his Rally for the Republic (RPR) party for municipal jobs that did not exist.
'Equal under the law'
The first count accuses Mr Chirac of embezzlement and breach of trust relating to 21 so-called "ghost jobs". The second resulted from a separate investigation in the Paris suburb of Nanterre and involves an illegal conflict of interest relating to seven ghost jobs. As well as a prison term, Mr Chirac could be fined 150,000 euros (£130,000) if found guilty in Monday's case.
The judge in the case, Dominique Pauthe, read from a letter by Mr Chirac's lawyers saying the ex-president wanted to be heard because it would be "useful for our democracy" and show that "all people are equal under the law".
The judge said the letter came with four pages of medical records, including a brain scan, which suggest the former president may have a condition linked to Alzheimer's. The judge later ruled Mr Chirac would not be ordered to attend the trial. The decision, says the BBC's Christian Fraser in Paris, has angered campaigners who have asked the judge to request a second medical opinion.
Mr Chirac's nine co-defendants also argue that it is impossible to hold a fair trial if the main defendant is absent. The prosecution, however, has said it does not object if Mr Chirac was not present during the trial.
Legal challenge
Mr Chirac was immune from prosecution while he was president from 1995 to 2007, despite persistent rumours of wrongdoing. After years of legal wrangling, he and nine other defendants went on trial in March. But on the second day of the trial, a lawyer representing Mr Chirac's former chief of staff at city hall, Remy Chardon, challenged the two cases being brought together. He argued the statute of limitations had expired in the first case. The Court of Cassation – one of France's highest courts – later ruled that the constitutional challenge was not valid. Friends of the former president say that in recent months, he has been subject to embarrassing lapses of memory. His mind wanders although he does not realise it, they say.
The medical report sent to the judge – drawn up at the request of Mr Chirac's family – spelled out his condition and recommended he be excused from attending the trial because he is not able reliably to answer questions about the past. Our correspondent says there are a few sceptics who say the medical arguments are being exaggerated by a Chirac family furious about the humiliation of a trial. Mr Chirac is the first French former head of state to face criminal charges since Marshal Philippe Petain – leader of the collaborationist wartime regime – was convicted of treason after World War II.
It is an historic day, our correspondent says, but not as significant as it would have been if the man they have dubbed 'the untouchable' had finally appeared in the dock.