I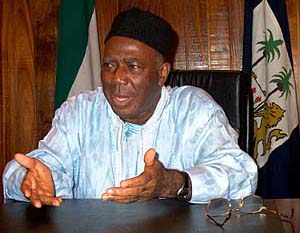 n fulfilment of my promise to maintain Beyond Borders (BB) following requests from some readers to have a different perspective on issues, especially as we approach the November 17 presidential and parliamentary elections, today, I will be turning the spotlight on former President Ahmed Tejen Kabbah's support to the SLPP presidential candidate, Julius Maada Bio. During his recent thank-you visit to Kambia, Kabbah's home district, the former president openly declared for Bio to be the next president of the country, a move that has left some tongues wagging.
Incidentally, if you have ever wondered why this column is called Beyond Borders, it is for a number of reasons: the author lives beyond borders is sometimes privileged to visit other places and tell readers about his experiences; there is no boundary when it comes to writing on issues that border on our collective good as a nation and no subject is off limit; BB also discusses issues with an international context; Beyond Borders believes in truth-telling and is not answerable to any politician or political party; this author believes in one humanity, intelligent debate of issues and non-violence.
Rewinding to Kabbah's rule, please allow me to remind you that the first time I saw the Alhaji was in the run-up to the 1996 presidential election. As a young reporter for the Concord Times newspaper, I covered Kabbah's campaign at the Wusum Stadium in Makeni, where I was the Northern region correspondent. The region was up for grabs. Late Dr. Karefa Smart's United National People's Party was the most popular followed by late Thaimu Bangura's People Democratic Party (Sorbeh). Kabbah's party had only some thousands of supporters, but I must say he was impressive when he addressed supporters, carefully and calmly choosing his words. The former UN employee came to power in a run-off with Karefa-Smart.
Inheriting a legacy of chronic bad governance, including a civil crisis, between 1996 and 2002, the then ruling SLPP prioritized the restoration of peace. The country witnessed tremendous turmoil the details of which I would like to go into. Two very ugly developments were: the overthrow of Kabbah's government in May 1997 and the invasion of Freetown in January 1999. With reference to the invasion of Freetown, some of us journalists saw it coming and reported it. Running out of excuses to deal with the problem, instead of chasing away advancing rebels, Kabbah's government decided to chase some of us around for daring to report the truth to the world that the government was minimizing the gravity of the crisis. By his government's own confession, Kabbah knew about a coup plot in the making in 1997 but woefully failed to avert it. And when rebels were ferociously advancing on the capital, Freetown, he said the "backbone of the rebels had been broken". Remember his portrait in military combat fatigue ready for war? The outcome of false assurances was colossal catastrophe. Those were difficult times. Generally, during conflicts, governments usually clash with the critical media. My argument at the time (and always) is that if civilians were not correctly informed about where rebels were, they would become vulnerable as it was the case on a number of occasions when people were killed as a result of misinformation. Unfortunately, even the civilians we were trying to protect in our own right saw some of us as "alarmists". Kabbah's government attempted to use all the laws on the books to put us behind bars for "spreading false alarm". At the end though, when rebels invaded the capital, everybody was a potential victim. But do I personally hold anything against Kabbah or the SLPP for wanting to jail me? Never! I was doing my job as
a journalist while Kabbah and his technocrats were doing their job as a government in trouble.
Notwithstanding those very difficult times, one thing you cannot take away from the soft-spoken Kabbah is that he always emerged victorious in a way. He ran away to Guinea in 1997 "to live and fight another day", and true to his words, he returned in 1998. Rebels invaded the city, but he ensured that he declared "war don don" in 2002. Because he achieved what many people were yearning for – PEACE – Kabbah's victory in 2002 was landslide, over 70 percent. UNPP's Karefa Smart that gave Kabbah tough time in 1996 got a miserable one percent in 2002. Where was the APC? Of course APC was around and Koroma was the party's flag bearer. He came a distant second with slightly more than 22 percent. Koroma rose to the top of the party after a very acrimonious leadership struggle with Eddie Turay and others. By the way, no matter how controversial he may be perceived, I think APC supporters should always remember Eddie Turay in prayers for his bold move to revive the party when even today's praise singers thought APC was dead and would never resurrect. The question is: why did the APC not win in 1996 and 2002? I am convinced that if your performance is truly outstanding, the nation will say it with one voice. There is no way you can tell voters that something is white when everybody sees it is black. There is no way you cannot win the hearts and minds of people if you live up to their expectations or they see you making sincere efforts to make their lives better, not double standards.
As many readers may be aware, between 2002 to 2007, SLPP woefully mismanaged everything. The convention to choose the SLPP presidential candidate was reportedly flawed leading to the emergence of the People's Movement for Democratic Change (PMDC). Hinga Norman was also callously made the sacrificial lamb as his reward for his contribution to the restoration of democracy. With no more war as excuse, fulfilling the repeated promise of development, including restoring electricity in Freetown, remained a promise. The government continued to enjoy a lot of international goodwill, but opportunities to properly and effectively use them were squandered. Projects were poorly implemented and badly monitored. Kabbah apparently took the back seat and allowed his anointed successor, Solomon Berewa, to largely (mal)handle the affairs of State. Berewa mismanaged his chance of providing leadership spending invaluable time campaigning way ahead of elections instead of providing much needed services and facilities. I must reiterate that I felt sorry for Berewa as he made one mistake after another – I still feel sorry for him. He allegedly said he will win even if one person voted for him; he antagonized the unpredictable Charles Margai; he distributed money as if it was going out of fashion – he practically campaigned for the APC through his words and actions. When the SLPP lost the elections in 2007 they accused everything – Christiana Thorpe, International Community, the media, musicians, everything. The only person they did not accuse was themselves. Tell me, if the SLPP had actually lived up to the expectation of people, was the party not going to win another landslide victory like Kabbah did in 2007? Was there any need to allegedly try to rig that led to the cancellation of votes in some areas? I may not have been an admirer of Kabbah's government, but I think he should be hailed for ensuring a peaceful transition of power in 2007. Now, take a minute and imagine what would have been the consequences on our country's fragile peace if Kabbah had refused to handover power to Ernest Bai Koroma, the declared winner of the 2007 presidential elections.
In my travel beyond borders, I've visited Côte d'Ivoirea number of times in recent times. In one of my recent articles, I stated that Côte d'Ivoireis a deeply divided country where reconciliation is a must. Difficult as it was, and against the backdrop of allegations of international conspiracy, Côte d'Ivoirewould not have been contending with serious security issues if Laurent Gbagbo had done what Kabbah did; handover in peace in the interest of his nation and spare himself the humiliation of receiving a dirty slap and finding himself in The Hague.
Following his 1996 victory, Kabbah said he was serving the country. That was when his party loyalists wanted positions in government. His statement did not go down well with the SLPP. But that was a leader addressing the nation. Kabbah's support to Bio is only natural. Is he not a member of the SLPP? Come to think of it, did world icon Nelson Mandela of South Africa not support Jacob Zuma for president during the last presidential elections? What is wrong with what Kabbah is doing? Is Bill Clinton not supporting Barrack Obama for his second term bid? What is wrong with it?
In my view, instead of finding fault with everything, supporters of other political, including the APC, should celebrate that in the ex-soldier's company, there is one Statesman, I trust, will tell the SLPP flag bearer to accept the people's verdict come November 17 if truly the SLPP does not win. The circumstances may not been particularly exciting, especially to their disciples, but the fact that both Bio and Kabbah handed over power should not be taken for granted.
During his years in power, Kabbah definitely had shortcomings. But after years of working hard to ensuring the restoration and the sustenance of peace and democracy, Kabbah should be hailed for what he did in 2007 and what he is currently doing for peace and democracy. Let Kabbah be hailed and not crucified, please.