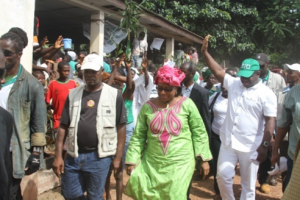 As politicians crisscross the country in the name of sensitizing their electorates ahead of the November 17 polls, the Sierra Leone Peoples Party (SLPP) presidential hopeful, Brig. Julius Maada Bio (Rtd), was in Kambia over the weekend as part of his 'Thank You Tour'.
Kambia is one of the biggest districts in the country where the ruling All Peoples Congress (APC) got an overwhelming support in the 2007 elections. The SLPP leader traversed several villages including Gbolon, Kukuna, Konta, Bubuya, Kychom and Mambolo to interact with the people, look at their felt needs and how it can be reflected in his 'New Direction' policy.
"I am confident that the ruling government has not done enough during their five years in governance. With the big welcome I've received from you, I want to officially declare that Kambia is my area," Bio told his hosts. "This is a clear message to the APC that the SLPP has created a serious impact in the north."
He added that it was unfortunate that the main government hospital in Kambia does not have a medical doctor.
"The police opted to provide an escort for my visit but unfortunately did not have vehicles. The main referral hospital, that is the Kambia Government Hospital, does not have a medical doctor. This is unacceptable. Living condition is appalling, standard of education dropped drastically yet this government cannot address some of these problems," Mr. Bio added.
In Gbolon village, the home of former President Tejan Kabbah, residents came out in their numbers to witness the official endorsement of Bio and his running mate, Dr. Kadie Sesay.
"Bio is a strong name in the political history of the country. He peacefully handed over power to the SLPP and travelled overseas to develop his educational standard. This is one of the many reasons I have decided to support him. I want to formally hand him over to you for your overwhelming vote in the forthcoming election," Kabbah told his people.
In Bubuya, some natives had to decorate themselves with palm tree leaves in their quest to see Bio.
While addressing the gathering, Dr. Sesay said her priority will be an improved educational system in which every child will have access to quality and affordable education. She commended Bio for appointing her as his running-mate considering that women have not been taking active part in politics for the past years.
"I want to assure you all that the 'New Direction' will salvage the economic hardship we are going through," she told the people.