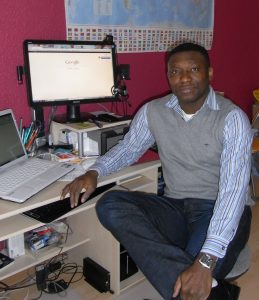 I can still recall the summer noon in the year 1990 when my late father revealed to me a short story about the name Kemaena which had been changed to Kenema, the provincial headquarter town of Eastern Province of the Republic of Sierra Leone and the headquarter of Kenema district, where I was born and raised. The old man told me that the Mende word "Kemaena", which means "nowhere to complain", was the actual name of this city due to reasons am not going to reveal here because of time factor. What is important to mention here however, is that the city and most of its inhabitants now seemed to depict the historical name (Kemaena) as many reportable stories occurring in the city go unreported, lawbreakers go unpunished, lawmakers become lawbreakers with impunity without even shy or shame.
The unusual cock-crow in the neighboring compound behind the fence signaled another day break in the eastern business capital of Kemaena? I went to bed in the previous night very late as His Excellency President Earnest Bai Koroma's arrival to officially open the agricultural fair exhibition (Cacao Show) had brought about a very unexpected but brighter light upon me and my neighborhood after weeks of prayers and sacrifices. The prayers and sacrifices were made not for President Koroma's second term ambition, but for him to stay in the town for more than a day so that the Bo Kenema Power Service (BKPS) cables and wires which had become useless strings for months, can generate electricity once more. This might not be unconnected with a massive beat their management team in Kenema suffered few years ago in the hands of the rugged presidential bodyguard, alias Leather-boot. I was told that the entire management team were beaten up and molested by Leather-boot after a sudden blackout took over the city during the president's visit. Since then, President Koroma's visits to that part of the country had been turned into a miracle that brings "clean" electricity for the poor voters. Whether the Dodo hydro is dried up or not, hence the President is around there will be "clean" electricity, simply because the city is called Kemaena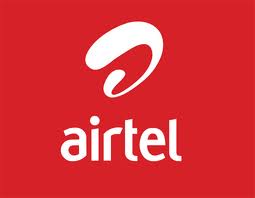 I had gone to bed late because I wanted to update Critique Echo after long period of silence due to lack of electricity. But the snail-like pace at which my Airtel modem counted the data made it impossible for me to upload or publish a single sentence. I fell asleep next to the laptop in anger and frustration. "Is this a sabotage ploy for the ruling party?" I wondered. Since the country's leading network-provider Celtel metamorphosed into Zain and then Airtel with a red color that signifies presence of the ruling APC in all nook and cranny of the country, it usual quality of services had significantly decreased. Airtel is the only mobile network that can suddenly break now in the middle of conversation without any good reason; its engineers are in the habit of listening to private conversations without the consumers notice; they deliberately deduct consumers' airtime with impunity; the internet modems are burning airtimes faster than normal cell-phones as they charge every single click on the internet explorer icon – it doesn't matter whether you access the net or not. Perhaps I realized all this because I was staying right inside the city of Kemaena.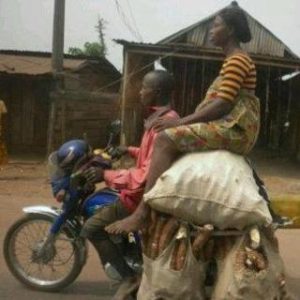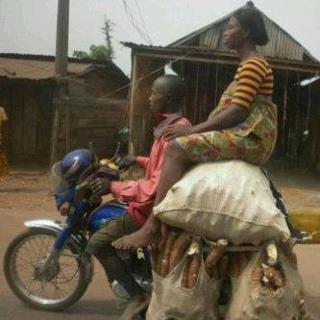 "You bastard, give me way, the streets belongs to us all!", I could see a commercial cyclist in my rearview mirror shouting at me while trying impatiently to overtake me along Blama Road – just after the famous C curve. I was driving a Nissan pathfinder which is no match for a Chinese made scooter. A minute later, the rider unexpectedly appeared in my driving mirror, this time round, on the right path. Even though the Sierra Leonean traffic rule had changed from left to right-hand drive since the year 1974, the desperate and untrained rider was overtaking me on the right path, a very unusual occurrence in a normal traffic scenario. There were three barriers ahead of us which could have plunged the cyclist into a gruesome accident hadn't I braked suddenly: two school girls waiting to cross over the street, a wheeler tirelessly pushing a wheelbarrow full of cereals and a newspaper vendor displaying a bunch of tabloids. My decision to brake suddenly saved three lives: the cyclist's and the two passengers he was carrying. Luckily enough, other vehicles and cyclists behind us were able to avoid the scene successfully.
Investigation later proved that the reckless rider was called James and his motorcycle was numbered AGI 875 and it belongs to a prominent member of the country's law enforcing body, the Sierra Leone Police force. Good number of the reckless motorcycles running crisscross the eastern city belongs to police officers which is why they are unlicensed and ungovernable. When lawmakers become lawbreakers, unimaginable things become reality. Anonymous sauces revealed to me that any accident involving such motorcycles will go unprosecuted since the police don't charge themselves. Otherwise, this city shouldn't be called Kemaena.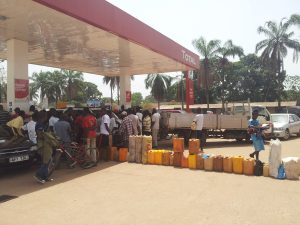 "We don't have fuel anymore, our reservoir is empty" were the words that sent excruciating pains down my spine as they came from a sale agent at the Total fueling station which is situated at Hangha Road in Kemaena. I had waited for more than an hour while he pumped the precious liquid into jelly-cans and motorcycles. Now was the turn of the man preceding me. "Why only now?" I cried in disappointment. The man was called Brima and a motor driver plying Kenema-Tongo route. "This has become a usual phenomenon in this part of the country since the year 2010. They are asking us indirectly to go to the black market, where those jelly-cans are going, and pay double of the normal price" he stated sarcastically. He then drove off in haste with a real sign of discouragement and frustration in his eyes.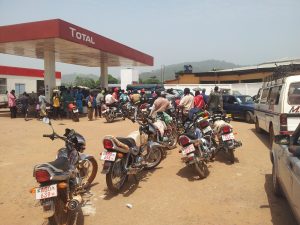 Though there seemed to be some difficulties in the importing process of petroleum products into the country, but the perpetual scarcity in Kemaena is lamentable. It could be clearly seen that the dealers are orchestrating it deliberately because of selfish reasons. I was in Sierra Leone from 1st March till 2nd May this year and I stayed in Kemaena for not less than five weeks and I can't remember a single day when there was no tension and commotion in fueling stations across the city. Even a junior secondary school pupil knows the economics topic that discusses the effect of scarcity on demand. We know that if the most needed commodity get scared on the market the little stock available will be sold at high price. So the dealers in Kemaena seemed to have formed a cartel that enriches them automatically by inflicting fuel scarcity on the consumers. There are about eight fueling stations in the city but there was no time two of them were seen pumping fuel at the same time. They always did it by turn and a large quantity of it were pumped into jelly-cans which later surfaced at the black market thereby forcing the ordinary consumer to pay double, if not triple, of the official price. This is unpatriotic, inhuman and undemocratic. Sadly enough, the doers are going unchecked, because they are doing so in a city that is called Kemaena.
Look out for continuation of this Kemaena series in subsequent publications.