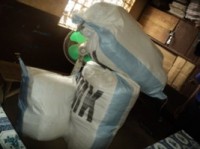 Police attached to the Kenema Police Division are currently investigating the arrest of 90 kilogram of dried leaves suspected to be cannabis sativa locally known as "diamba." The arrest was carried out on Thursday morning around 05: 30am when an IVECO truck with registration number AIQ-946 was on its way to Kenema city and was searched at the Bandama check point in Small Bo chiefdom on the outskirts of Kenema city. This was where Sgt. 787 Amara Brima discovered the three large bundles purported to be second hand clothing meant for Kenema city.
The driver Salia Conteh of 2 Kandeh lane in Waterloo said he took some passengers with their luggage at Gbowumbu village in the Moyamba district and they were heading forKenema city. He says they all boarded the vehicle at various locations before they got to the Bandama checkpoint. A woman identified as Sera Kamara of RTI in Kenema is in police custody helping the police with the investigation. She was identified by the apprentice of the vehicle around the police station as one of the women that they travelled with last night.
In a phone in call at one of the radio stations in Kenema city, some callers were calling on the AIG Alfred Karrow Kamara to elevate the sergeant and his team to various post for their hard work by not allowing the huge sums of money to be lost in the interest of the nation, so they need to be compensated for their action.
Sergeant Amara was earlier deployed at Moa checkpoint along the Kenema Liberia highway where he makes several positive records by arresting drugs, arms and ammunitions. He was later transferred to the Bandama checkpoint where he is also making remarkable records. He made over twenty arrests in March alone and majority of the arrest involved women who were heading with their business to Kailahun district which has a porous border crossing point with Liberia and Guinea and all of them were charged to court.
The AIG and his team are of late receiving positive applause from the public in Kenema district and the region for the pro activeness of the Sierra Leone Police in providing security in the region.