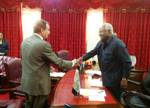 Outgoing Kuwaiti Ambassador to the Republic of Sierra Leone, Dr Hamad Burahamah, on Wednesday 14th August paid a farewell courtesy call on President Dr Ernest Bai Koroma at State House, Freetown.
President Koroma paid glowing tribute to the already excellent relations that exist between the two countries, noting that, Kuwait was very much supportive of the Agenda for Change with interventions in the health sector, for example, and in religion; granting scholarships to Imams to undertake the yearly pilgrimage to Mecca.
The president expressed profound appreciation for the support the Kuwaiti Government has provided for Sierra Leone in major ongoing infrastructural projects like the Hillside Bye-Pass Road and the Lumley-Tokeh Highway. He further noted that the Sierra Leone Government has presented a proposal to the Kuwaiti Government for the construction of a cultural centre, which will help to strengthen the already strong bilateral ties between the two countries.
"Let me use this opportunity to register my acceptance to attend the Arab-African Summit in Kuwait in November this year", he promised, and called for collaboration in order to consolidate "our relations in investment and trade".
President Koroma encouraged the outgoing envoy to help provide more opportunities for Sierra Leoneans to travel to Kuwait to work and get training in different fields of endeavour to help strengthen the ongoing transformation process.
Ambassador Dr Hamad Burahamah, on his part, profusely thanked President Koroma for receiving him at State House to bid farewell, and also used the opportunity to convey the compliments of His Highness the Emir of Kuwait to the government and people of Sierra Leone.
He described the relations between Sierra Leone and Kuwait as historic and successful, adding that there was willingness on the part of Kuwait to further bilateral cooperation between the two countries and to establish an Islamic centre in the country.
He extended the Emir's invitation to President Koroma to attend the Arab-African Summit which the African Union and the Arab League are looking forward to him for suggestions, advice and recommendations on bilateral trade and commerce, direct foreign investment among other related issues.
He said the Arab League and the African Union have prepared for the Arab-African Summit to come out successfully and unique as they were looking forward to President Koroma in honouring the invitation, adding that many options are open for bilateral and multilateral cooperation between the two countries.
The ceremony was attended by the Deputy Minister of Foreign Affairs and International Cooperation, Madam Ebun Jusu, an Interpreter of the Ministry, and the Kuwaiti delegation.