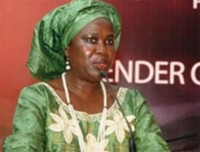 An opposition lawmaker representing Constituency 17 in Kenema District has written a strongly worded letter to the party's National Chairman and Leader over the ongoing political chasm emanating from the dismissal of the Minority Leader, Hon. Dr. Bernadette Lahai.
Hon. HabibMunda said the action by the Sierra Leone People's Party to dismiss and replace the embattled Hon. Lahai was "emotional and pungent" and that such action has the tendency to create rancor among the general membership of the party.
He acknowledged that the petition letter majority of the SLPP lawmakers wrote to the Chairman and Leader, Chief SomanoKapen, has "some merits, but was divisive and untimely".
Hon.Munda holds that, "Though I share the views that were alleged against her, I differ on the action taken against her alone by the National Executive," adding: "Reprimanding her alone based on the issues raised against her can be viewed by many as unfair."
He opined that the party hierarchy erred in their procedure to administer justice, and that they were in breach of the party's constitution which stipulates that under such circumstance, Hon. Dr. Lahai should have been given the opportunity state her case before any recommendation could be proffered for her removal by national officers.
The Constituency 17 MP further charged that Dr. Lahai was not acting alone, thus in the spirit of collective responsibility, has to be punished together with Hon. Sidie Tunis, Hon. AlhajiAnsuKaikai and Hon. J.B. Mansaray, all of whom are opposition party leaders in parliament.
"This act made me to conclude that the action taken to replace Hon. Dr. Lahai was emotional and pungent. Notwithstanding, Hon. Kaikai can be vilified [vindicated] from this because she never consult(ed) him on a proper note on these alleged issues though he was deputy to her," he said.
He entreated the SLPP chairman, Chief SomanoKapen, to urgently summon an emergency National Executive Council meeting to address the setting up an Arbitration Committee to look into the issue; to request Hon. Lahai to withdraw the matter from court; reverse the appointment of Hon. Emma Kowa as new Minority Leader for the time being; and to ask Hon. AnsuKaikai to act as interim Minority Leader until the Arbitration Committee comes out with a final decision.