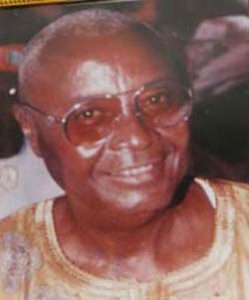 Hon. Maigore Christian Kallon, 88 has angrily reacted to what in his own words "was a false publication in the Standard Times Newspaper of Tuesday 2nd October 2012 with the front page caption "ABANDONED SLPP MAIGORE KALLON SPEAKS FROM HIDEOUT"
In an exclusive interview requested by himself at his well-known usual lodge at Musa Street in Bo City, on Friday 5th October 2012 the veteran SLPP Politician-from Daru, Kailahun District in Eastern Sierra Leone strongly denied ever granting an interview to the author of the publication, Fayia Amara Fayia.
Hon. Maigore Kallon confirmed that Mr. Faya Amara Faya did visit him and requested an interview with him but he said, "I told the young man that I will only talk to the press after the November elections. My photo in the Standard Times publication was taken by the young man without my absolute knowledge".
Asked whether he actually felt abandoned by his old friends in the SLPP, the 88 year-old retired veteran Politician said "No! No! I don't feel abandoned by my friends in the SLPP. How can someone say I am abandoned by the SLPP when in actual fact I am presently staying here in Bo with a very senior member of the SLPP in the person of Mr. J.T. Minnah- Chairman SLPP Elders Council, Southern Region? And not only that, I am also receiving many top officials of the SLPP since I decided to stay here in Bo for the ease of regularly seeing my doctor, Momodu B. Yillah.
Among those SLPP Officials, Hon. Kallon said, were the current Presidential Nominee of the SLPP Rtd. Brig. Julius Maada Bio, the Chairman and Leader of the party John Oponjo Benjamin, the Bo District Chairman of the party Alhaji Kanja Sesay and of course the popular and another highly regarded octogenarian Politician and well-known newspaper columnist Dr. Sama Puawui Banya who, like Hon. Maigore Kallon hails from Kailahun.
The story in the Standard Times newspaper alleged that Hon. Kallon mentioned current President Ernest Bai Koroma of the All Peoples Congress (A.P.C) party as the only top Politician in the country to have ever visited him and offered him an undisclosed gift.
In reaction, Hon. Kallon described the allegation as the usual praise singing of Ernest Bai Koroma by some cheap journalists in some APC financially backed newspapers and radio stations. According to him, he has never been visited by President Koroma let alone received a gift of any kind from him.
Asked whether he has ever met with President Koroma since 2007, Hon. Kallon answered "well YES I have met with President Ernest Koroma twice since he became President in 2007. The first time I met him was when Victor Foe (current APC Secretary General) visited me in my house in Freetown and persuaded me as a relative to join them to thank President Earnest Bai Koroma for appointing Madam Marie Bernett as Ambassador to the Republic of Liberia in 2008.It was during that visit to State House, Hon. Maigore Kallon recalled that he got a sudden attack and was taken to his Doctor Ryan Koker's hospital at Pademba Road in Freetown. Neither Victor Foe nor President Koroma he said visited him at the hospital where he was admitted.
My second meeting with President Koroma was last year-2011. I went to him and asked him to help arrange for my benefit as a former Member of Parliament and also a former Cabinet Minister to be paid.
Asked whether he had received his entitlement, the veteran Politician emphatically said NO! "I have not received a single cent up to this moment from this uncaring government. All President Koroma told me was that he will look into my matter. I then left him to look into it properly because I worked for it and therefore deserve it.
The veteran Politician predicted a landslide victory for Rtd. Brig. Julius Maada Bio and the SLPP on November 17.