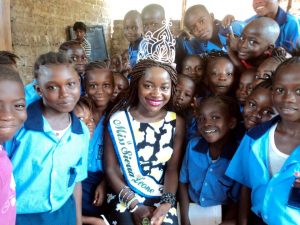 Ruby Johnson is not your typical beauty pageant Queen.
Just over a month after her homecoming trip to Sierra Leone to mark the country's 52nd Independence Anniversary, Miss Sierra Leone USA Ruby Johnson is back in Freetown to undertake a hard-hat internship with Octea Mining (formerly Koidu Holdings Ltd.).
A mining engineering student in the US, Ruby is set to spend the next two months at Octea's diamond mining site in Koidu, Kono in the Eastern Province getting first-hand experience of the industry in Sierra Leone.
Ruby will travel back and forth to Freetown meeting with key officials in the mining sector in Government and private industry as well as learning some of the administrative operations of the Company.
Ruby first visited the kimberlite mining site in Koidu during her April/May 2013 official visit to Sierra Leone. She visited several schools, talked to high level officials in Government and appeared on SLBS-TV in an effort to promote her platform to advance girls education in Science, Technology, Engineering and Math (STEM) fields.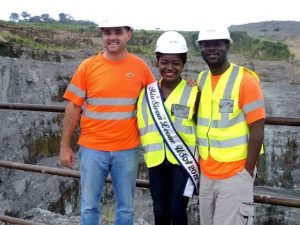 According to Miss Sierra Leone USA co-founder and CEO, Dr. Fuambai Sia Ahmadu, "Ruby's professional internship with Octea Mining is important in so many ways. First, the MSLUSA Pageant is fortunate to have in Ruby such a bright, articulate and ambitious ambassador for girls and women of Sierra Leone descent in the United States. Secondly, Ruby's platform to promote girls education in STEM fields is a high priority in Sierra Leone as well as the rest of the world in terms of achieving gender equality in traditionally male sectors.
Dr. Ahmadu adds a final remark, "Ruby embodies exactly what MSLUSA is all about – nurturing and developing leadership potential, a commitment to community service as well as career advancement among Sierra Leonean girls and women in the US".
Swadu Natasha Beckley is the current pageant director of MSLUSA. As a former Miss Sierra Leone USA titleholder who became a Miss World finalist, Ms. Beckley commends Ruby's success and the impact of the MSLUSA pageant in changing lives, "Ruby left Freetown at a tender age and made something of herself in America. Now, she's come back to tell other girls that they can achieve their own dreams and they don't have to leave Sierra Leone to do so".
OCTEA president Ibrahim Kamara whose office is in the capital, Freetown said in a statement that this internship is particularly important because Ms. Johnson is not just another Sierra Leonean. She is the reigning 'Miss Sierra Leone USA' a role model and ambassador for thousands of young Sierra Leoneans in especially the US.
"To give her a firsthand understanding of what we do and how we do it represents an opportunity for us to reach out to the thousands of young Sierra Leoneans across the world that follow her every move, and demonstrate our commitment to engage with Sierra Leoneans all over the world. And with her background in Mining Engineering, there could not have been a better placed candidate for this," Kamara said.