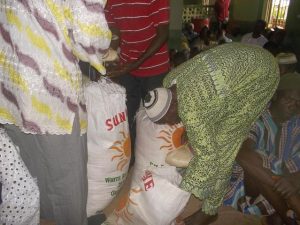 A Non-Governmental charitable organization, Momojah Lansana Development Foundation, on last holy Friday ( August 17th 2012) donated "Sunakati" to hundreds of Muslims at the Bilali Mosque, Kissy in Freetown. The donation was made as special offer to Muslims for the Ramadan.
Speaking to the Muslims Jamaat after the Friday prayers'; the secretary of the Momojah Lansana Development Foundation Cecilia N. Karimu said her organization believes in sharing with people when they are badly in need. She informed that, they have always come to give support to disabled, under-priviledged, pupils, aged, Muslims and Christian communities during the month of Ramadan and advent respectively. She disclosed that, during last year Ramadan period, Muslims at the Passonage street mosque benefitted from a similar donation.
She said, though she is not a Muslim, but believes that there are so many blessings for whoever contributes to ensure that Muslims keep the month of fasting holy.
The Imam of the mosque Sheik Abubakarr M. Swarray said there is a blessing for all those who contribute in their own little way to ensure that the fasting month goes on smoothly. He informed that, it was a big surprise to him to having visitors leaving other mosques to locate their own mosque for this donation. He prayed fervently for members of this charitable organization to have more good desires for those who are in need. He continued that Allah will reward them for their kind gesture.
In an exclusive interview with the Country Manager of the Momojah Lansana Development Foundation, Mr. Lawrence Bangura was founded by young Sierra Leonean activists based in the United States Momojah Lansana. According to him, the organization has contributed so much in humanitarian activities ranging from free health care services at Wellington Community Centre, Scholarships at Albert Academy and Urban Centre primary school, food donations, clothes and learning materials were among donations done so far by the organization.
All the Muslims who received the donated plastic bags of rice expressed happiness with the organization and prayed for their progress