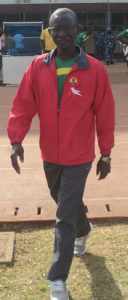 Dear Sir, We refer to an article published in the Opinion page of Africa Young Voices (AYV) online newspaper on June 12, 2012 in which you were quoted as saying, "Chicken dear pass woman na Salone." According to the article, this statement was allegedly made during an address to "hundreds of youths gathered at the Presidential Lounge of the National Stadium in Freetown at a three day workshop organized by the Sierra Leone Youth and Adolescent Network (SALYAN ) in collaboration with the Ministry of Youth Employment and Sports" (End quote).
The article as it is reported, has generated widespread debate ― more than 1000 comments―on the Open Forum for Future Economic and Social Development in Sierra Leone. A group of contributors to the forum has taken exception to the comment reportedly taken from your speech. We find the choice of words, as reported in the paper, unfortunate and demeaning, as it affronts the integrity and dignity of womenfolk in our beloved Sierra Leone. We view this as an assault on our mothers, sisters, daughters and ourselves who have worked tirelessly in different historical and cultural contexts to rid our society of sexist, negative vernacular stereotypes of Sierra Leonean women.
We note that at the launching of the Youth Employment and Sports Ministry on December 4, 2010, you reportedly said that the government's overall objective is to promote the youth of Sierra Leone, mobilize youth, transform them into useful citizens while appealing for continued support to government's youth development projects. With more than 800,000 young people either unemployed or underemployed, we know your ministry has its hands full in offering hope to the young about their future prospects, improving skills that are being demanded by the market and equipping our young people for meaningful employment.
Therefore, it is with grave concern that the newspaper report portrays someone who holds such a position of great responsibility and power saying something that is contrasting to the policy objective of government and what apparently amounted to be a humiliating and dehumanising experience for young women at the event and women of Sierra Leone everywhere.
As very concerned citizens of Sierra Leone, and as women, we are seeking clarification from you on the matter.
Sincerely yours,
Representatives of the debate on the AYV Story – Open Forum for Future Economic and Social Development in Sierra Leone
Click here to view article as it was reported in the Africa Young Voices online newspaper