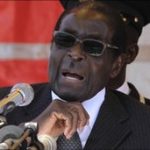 Zimbabwe's President Robert Mugabe has prostate cancer which has spread to other organs, according to a leaked US diplomatic cable.
The cable, published by whistle-blower site Wikileaks, cites central bank governor Gideon Gono as saying Mr Mugabe's doctors had urged him to quit. The cable, written in 2008 by the US embassy in Harare, also says 87-year-old Mr Mugabe could die by 2013.
Mr Gono, a staunch ally of Mr Mugabe, dismissed the cable as "fiction". The cable cites Mr Gono as saying the cancer had "metastasized and, according to doctors, will cause his death in three to five years."
In an interview with Reuters news agency last September, Mr Mugabe – who has been in power since 1980 – dismissed rumours that he was dying of cancer and had suffered a stroke. 'Mugabe will quit'
The cable, written in June 2008 by the former US ambassador to Harare, James McGee, quotes Mr Gono as saying that doctors had advised Mr Mugabe to reduce his activities. The cable says that a year earlier, Mr Gono had said that Mr Mugabe's doctors had told him to step down immediately. "Mugabe had told his doctor, according to Gono, that he would leave office after the [2008] election," says the cable. In his response, Mr Gono dismissed the cable as "fiction" and said he did not have the "power to shorten or elongate people's lives", Zimbabwe's privately owned Daily News newspaper reported.
Mr Mugabe's Zanu-PF party and Prime Minister Morgan Tsvangirai's Movement for Democratic Change (MDC) party have not yet agreed on an election date, but Mr Mugabe said at the weekend that it could take place next year.
Mr Mugabe formed a power-sharing government with Mr Tsvangirai following elections marred by violence in 2008.