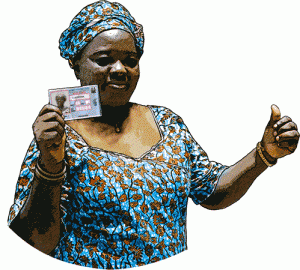 Western Area Commissioner of the National Electoral Commission NEC has put to rest speculations that Sierra Leoneans in the Diaspora will be given the opportunity to vote in the forthcoming presidential and parliamentary elections slated for November 17.
Miatta French told newsmen at the weekly press conference at the ministry of information yesterday that it will be impossible for NEC to extend its mandate of conducting the electioneering process outside the country because it cannot determine the number of eligible Sierra Leoneans in the Diaspora.
"There is no clear statistic to show the number of Sierra Leoneans and their respective states or country in the Diaspora," she said. "It is a gradual process but I am sure it will not be possible in this election."
Many Sierra Leoneans in the Diaspora have called for the opportunity to cast their votes for their respective candidates and political party by proxy especially as most of them do not have the wherewithal to travel to Sierra Leone to register and vote. Miatta further noted that it is the responsibility of Sierra Leoneans to come out in their numbers to register as soon as voter registration exercise commences.
"The commission has put all necessary structures in place to ensure transparent and corrupt-free elections. We vehemently condemn over-voting and that is the reason we are asking Sierra Leoneans to maintain best practices," she said adding that the commission will invalidate excess voting at any polling station across the country.
She urged the media, the civil society and political parties to complement the efforts of NEC in sensitizing the populace about the electioneering process and best practices. According to the timeline provided by NEC, capturing of registration data would start on January 23 to last for 64 days while the printing of the final voters register would be done between June 25 and July 31.