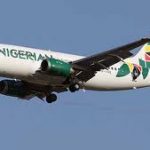 Just days after it was announced in Freetown that a new "National" carrier incorporated as Leone Airways will start a joint operations soon with the Nigerian based Arik Air, the Chairman of Arik Air, Joseph Arumemi-Johnson Ikhide has told senior officials from General Electric visiting his company recently in Nigeria, that because of scarcity of fuel in Nigeria they have been forced to adjust their flights.
The Arik chairman speaking to airplane manufacturer General Electric signaled that at the moment, airlines operating in Nigeria are surviving on extra charges levied on passengers' tickets as result of the skyrocketing price of aviation fuel, popularly known as Jet-A1, and other charges and problems arising from the sundry issues in the industry.
Airline experts in Nigeria have predicted that any moment from now, more airlines may go down due to high operational cost which is threatening the operations of the Nigerian aviations industry.
Records available to Awoko Business revealed that between September 2010 and June 2011, aviation fuel marketers increased the price of the commodity by over 100 percent, as a litre jumped from N80 per litre to over N180
"Unfortunately, some marketers even deny us fuel. They can't even supply us what we want and we have to adjust our flights. For instance, we need 500,000 litres a-day but the marketers can't supply that because it is scarce, we need about 3.5 million litres in a week."
"Therefore, we can't operate normally, we lose money. Although, we have a fuel dump but that is just for a few litres, it does not serve the purpose of all our flights," Joseph Arumemi- Johnson Ikhide, Arik Air chairman, disclosed whilst meeting officials from General Electric in his Lagos office recently.
In another development, the Federal Airport Authority of Nigeria (FAAN) has without notice increased Passenger Service Charge (PSC) from N350 to N1,000 per ticket, at all the 21 airports, a situation the aviation industry has described as arbitrary because there was no notice of the increase and the charges were even higher at older airports than the newly and privately built Murtala Muhammed Airport Terminal 2 (MMA2).
This development, according to industry insiders and those working at the airports led to serious confusion and embarrassment at the airports as many airlines refused to build the N1, 000 charges into their charges. Faced with this crisis and the displeasure of the airlines operators over the increases, government staff were left stopping passengers at the boarding area to demand for the N1,000 PSC until new tickets were specially printed to accompany the normal passenger tickets.
Fast on the heels of the FAAN's price increase, the operators of Murtala Muhammed Airport Terminal 2 (MMA2), Bi-Courtney Aviation Services increased their prices from N1,000 to N2,500, claiming heavy cost of operation at the private terminal.
Observers of the aviation industry and many passengers' reluctantly conceded that the airlines operators have no choice but to increase their tickets charges as their operating cost continue to go up.
A spokesman for BI-Courtney said: "We consulted all the airlines informing them of our new charges in order for them to adjust their system, and it is only Aero that refused to add it to its tickets cost, their passengers were always accosted with the demand for N2, 000 at the boarding gate." He added that "the passengers were not happy but there is nothing we could do because their airport is privately maintained."
However, the Nigerian government Minister in charge of Aviation, Stella Oduah intervened and stopped the new charges after two weeks of complaints and controversies at the various airports.
Due to poor infrastructures and the lack of functional maintenance of hangars in Nigeria, airlines have to carry out maintenance on their aircraft overseas, adding to the costs of running the airlines. Over the years, several governments had promised to build a national hangar but to no avail as individual airlines like Aero and Bristow have tried to have theirs but with limited maintenance status.
Regulations call for regular check-up and maintenance of all aircraft for safety reasons. And according to aviation experts; A to D maintenance are carried out on both Helicopters and aircraft. While A and B checks can only be done in Nigeria, others C and D which are very expensive are done overseas.
The C and D stages are the overhaul stages where every part of the aircraft is removed for comprehensive checks one after the other, it is like getting a brand new aircraft all over again.
Aviation experts are frustrated that Nigeria, which boasts of the largest and most modern commercial aircraft fleet in West and Central Africa, has no Maintenance Repair and Overhaul (MRO) facility.
According to airlines observers in Nigeria, Arik Air has been toying with the idea of establishing a modern hanger for many years now, but this remains at planning stage.
At present the increase in fares has led to an hour flight now costing between N25, 000 to N30, 000, depending on the route, seat availability and other factors, this is a departure from the N19, 000 it used to be in November 2010.