Not even the scorching 96 degrees heat wave could deter 16,000 patrons from attending New York's largest Caribbean food festival.
The festival upgraded its status turning out closest to the outcome its promoters had hoped for attracting 4,000 more patrons comparatively to last year's 12,000 who thronged into Roy Wilkins Park in Queens past Sunday to enjoy the festival's fifth edition, according Eddy Edwards, CEO of Jamaican Jerk Festival USA Inc.
"Every year the festival just grows and people are learning what a great festival it is," said Kimberly Lue Li, Grace Foods Jamaica – Assistant Global Category Manager for Seasoning & Sauces during an interview at Roy Wilkins Park.
Ms Lue Lim was quick to distinguish the jerk fest from other festivals, noting, "The food is the main attraction," and she highlighted "the up to 40 food vendors and Culinary Pavilion that staged the Celebrity Cook-Out contest.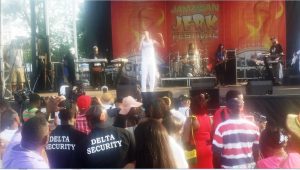 Mayor de Blasio accompanied by the First Lady Mrs. Chirlane de Blasio, successfully defended the Celebrity Quick-Fire Challenge title he initially won in 2013 when he was campaigning for the mayor's job. His culinary competency with his self-styled New York Jerk Chicken "Swagger" Sandwich impressed the crowd and swayed the judges over his contender Miss Universe Jamaica 2014- Kaci Fennell to win this year's Celebrity Chef Championship.
"We are delighted that Mayor Bill de Blasio was able to attend this year's Grace Jamaican Jerk Festival. Mayor de Blasio is a huge fan of the annual Festival and we welcome his participation in the Celebrity Quick-Fire Challenge. We look forward to his continued support in the future," Edwards said in a statement.
The festival offered a little bit of something for everybody. From the Culinary Stage the events main attraction, patrons feasted on a vast array of food offerings including barbeque and jerk chicken, beef, pork, corn, veggies and even jerk ice cream that emanated mouth-watering aroma miles away from the park, to treats of Jamaican folklore and interactive theatre at the Cultural Stage seemingly exemplifies a joyous event.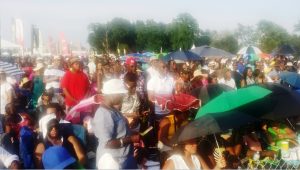 Children enjoyed inflatable slides and rides, body painting, tug-of-war, kiddie's arts-n-craft and rock climbing wall. While vendors sell handcrafted jewelry, hats, bags and other artifacts in the Arts & Craft Village.
Featured mm54rtusical performances added more excitement to the Main Stage, especially with Jamaica's pre-eminent band The Fab Five thrilling the audience the most with a medley of reggae, dancehall and soca hits.
However, a Jamaican patron residing in Brooklyn who goes by the name of 'Jeff the Yardman' said he bought tickets online in advance just to see his favorite reggae singer and performer, Sanchez. He stated he was disappointed because Sanchez who was initially on the lineup had to cancel for personal reasons and replaced by dancehall artist Baby Cham. "The music stage could have been better and livelier if Sanchez was up on that stage,' The Yardman said.
Still, contributions by reggae artists Carlene Davis, Baby Cham, Romain Virgo and Major Hype were well received and appreciated by the audience who sang along throughout some of the various sets.
"All in all, to have that magnitude of Caribbean people coming together and having a good time inspires the Pan African in me even more," said Ethiopian born, Sirak Getachew cofounder & creative director of Africology Media Inc, who attended the event with his two friends who are visiting New York from Djibouti and Ethiopia, respectively.
"As an African who grew up in the Bronx on White Plains Road in New York, I know my Caribbean and Jamaican dishes. The Jerk Festival not only served justice to its name, it also shined light on the various booths and stands all over the park," Getachew said.