FREETOWN, SIERRA LEONE – As a product of one of Sierra Leone's celebrated boarding schools the Magburaka Government Secondary School for Boys, prevalently known as the "Oxford of the North", President Dr. Ernest Bai Koroma has on Friday 9th September 2011, accepted a requested from executive members of the Old Bo Boys Association (OBBA), a past pupils' organization of the Bo Government Secondary School for the protection of the school's premises from land encroachers.
This disclosure was made to the Communications Unit in the Office of the President by the national president of OBBA, Dr. Andrew Turay, who paid special gratitude to President Koroma for accepting OBBA's request for the provision of necessary helps –water, fencing of the school and a transportation facility.
"We came to State House to thank President Koroma for coming to the rescue of the Bo School by providing the required boarding materials and for the starting of the school fence project", he said, adding that the fence, having completed will not only protect the school's land but will also keep the boys on campus and further maintain discipline in the school.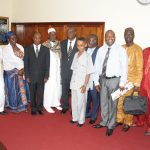 Dr. Turay said Bo School being a government school, and President Koroma being the Head of State of Sierra Leone he is actually a patron of the school and OBBA as well.
Refuting claims that the names Bo School and OBBA are synonymous with a particular political organization, the national president said; "OBBA a-political and a-religious. We are not a member of any religious and any political organization and we don't determine which political party or religious organizations our member should belong to. Therefore we don't impose particular religious and political doctrines on our members, and we are Muslims and Christians."
Therefore, Bo School in the words of Dr. Turay, belongs to President Koroma and his government which is why he considers it fit to provide the necessary supports to the institution.
The government of President Koroma has gone a long way in assisting Bo School in a lot of its developmental projects, recent among is his acceptance of request to provide water while considering the provision of buss to the school to facilitate the transportation of day scholars to and fro campus.
Among the OBBA delegation that met with President Koroma at State House last Friday, were the national president Dr. Andrew Turay, the board of governor, the principal of the school, executive members of the United Kingdom and Diaspora chapters of the past pupils' association of Bo School.