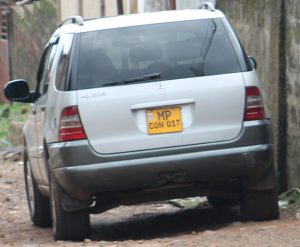 Habib Munda, the (dis)honorable (mis)representative of Constituency 017, you might think the Pathfinder brouhaha between you and YAD has been laid to a rest hence you have never been summoned to a real court of law for all the woes you intentionally unleashed upon the youth led organization. Well, you must have been carried away by the drunkenness of power, if that is what you really think.
The truth is that the organization is currently busy with modalities to launch a fresh project for the youths in the Kenema municipality. So we don't want to be distracted by a conman like you who has become so infamous in just half a year in the house of parliament.
While I strive to defend the interest of my fellow youths, women and children in donor quarters, I still have you under the beam of my investigations which keeps me abreast about you more than you can actually imagine. Yes, that makes me a true freelancer… I know where you go; I know what you say; I know what you do; I know a lot about you including the names and addresses of your uncountable concubines. I shall soon come out with more information about you.
Meanwhile, information filtering into this outlet has confirmed that the scenario around the Mercedes ML 320 which you have quickly labelled "MP Constituency 017" and now parading with it in the streets of Freetown is not entirely different from that of YAD Pathfinder which you unsuccessfully stole early this year.
Undeniable sources have revealed that the said vehicle belonged to one of the patriotic brothers of Constituency 017, born of Bandawoh (name withheld due to privacy reasons), who chiefly financed your election campaigns and even clothed you shortly after elections in order to make sure that you do not appear among other MPs in your usual amateurish, sloppy and untidy manner. But ayah, as the Creole adage goes, monkey nor de lef ihn black hand, "once a thief is always a thief", you have paid Mr………… of Bandawoh in your usual dishonorable and ungrateful manner. Just like the YAD story, you are yet to complete payment for this vehicle and you are now hiding from a man who once served as your (only) elder brother, source of income during the last elections.
Furthermore, sources at the SLPP regional headquarters in Kenema have confirmed that they (mistakenly) elected you as caucus leader shortly after the last elections thinking that you might have civilized over the years and eventually changed your usual criminal behavioral patterns, but your recent unenviable records are glaring proves that you are still locked up in your usual amateurish and social ignorance. Consequently, they have decided to show you the exit door at any time from now. Is that why you have started dodging their meetings and important invitations? Ooh Ngo Munda… naso you de continue to bastardize SLPP wae ge you de symbol?
Let me ask you few important questions: you have changed your place of origin in your facebook profile to Moyamba, are you running away from Constituency 017? Is it because you don't see any prospect again to contest in 2017? Do you think the Moyamba people will vote for you based on unfounded stories and unfulfilled promises?
Let me warn you as a brother; I worked in Moyamba during the war and I know that their literacy level is far above that of Constituency 017. So what works in Constituency 017 (like donation of 2 bundles of zinc for Bondo Bush construction for a whole community forgetting about nail, timber and cement) cannot work in Moyamba. You have been warned in your own best interest, Lonta!