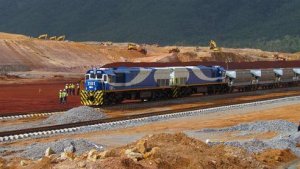 I was in Sierra Leone recently. During my visit, I observed that some of the mining companies are opening the doors for development in our country. One of them is African Minerals (SL) Limited (AML).
I visited some areas where the company is carrying some of its operations and the visit explains exactly why our President His Excellency Dr. Ernest Bai Koroma believes that our mineral wealth is making us one of the fastest growing economies in Africa.
About the company
The AML is a mineral exploration and Development Company with significant interest in Sierra Leone. AML has been exploring the Tonkolili District deposit in the Sula Mountains range in Sierra Leone for the last seven years and in 2009 confirmed the presence of a world class magnetite iron ore deposit.
The mine is located about 200 kilometers east of Freetown. The project benefits include employment generation both during construction and operation, large scale investment in Sierra Leone, community development and contribution to local and regional development, among many benefits.
The Tonkolili Iron ore project consists of mining and processing operations that will produce concentrate for export at a rate of about 45 years at these production rates, and there is opportunity for increased production subject for further exploration and feasibility studies.
AML and its Chinese partners
In 2010, AML reached an agreement with its Chinese partners Shandong Iron Steel Group (SISG) Co. Limited for a strategic investment of US$ 1.5 billion. The business was in respect of AML'S flagship iron ore project at Tonkolili District in the north and related infrastructure projects valued at about us $ 6 billon.
Funding enabled AML to improve its strategic implementation of phases 1 and 2 of the project, allowing introduction of all-rail transport and logistics solution instead of the originally intended combined haul road and rail system and allowing uninterrupted year-round shipment, unaffected by the wet season.
Connecting major towns in the country
The newly developed rail infrastructure is required to link Tonkolili District with Targrin point in Port Loko District. The port facility is a deep-water port comprising a causeway. Trestle and berths located 700-800m off-shore.
This involved extraction of the iron ore and supported by associated infrastructure including water storage facility, processing equipment, disposal of overburden and a tailing facility. Other ancillary arrangements included accommodation, camps and services and an airstrip.
A standard gauge heavy haul rail line has been built following a route close to the existing road network from Tonkolili to Makeni and through to Rogbere Junction near Lunsar. From there it followed the Pepel rail alignment to Lungi Lol. It then branched off and ran close to the Port Loko- Lungi road and down to Targrin point.
A new deep water port has been constructed to the West of the Targrin Ferry Terminal and service port built to the East of Targrin port. The company also established a range of material handling facilities in the main port, including stockpiles of ore, rail car dumpers unloading and ship loading facility with jetty, docking berths and conveyors.
The secondary port houses a fuel depot, container terminal, power generation and support services. Offices, accommodation and road infrastructure have also been developed in that area.
The government granted large scale mining licenses to AML for the mining of Iron ore in Tonkolili District; made a port and rail agreement for the purpose of the shipment of iron ore; while the construction of Pepel port and the railway from Ferengbeya in the Tonkolili District to Pepel has been accomplished. AML made its first iron ore shipment from its Tonkolili project, the first such shipment from the country in more than 30 years when the mine was closed.