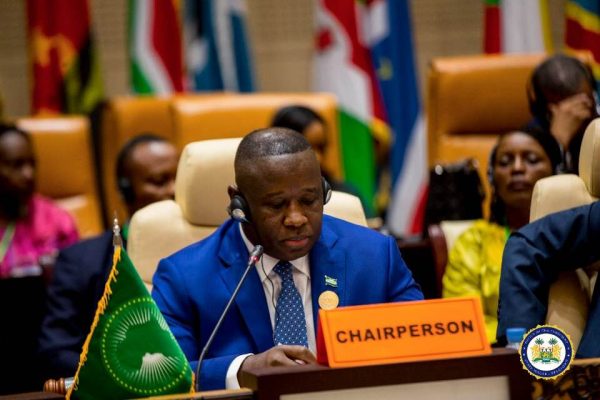 The Chairperson of the Peace and Security Council of the African Union, His Excellency President Julius Maada Bio on Saturday 30th June urged the African Union that their words should be translated into action to ensure peace and stability in Africa.
Addressing Heads of State, Foreign Ministers and officials of African Union during the Peace and Security Council meeting at the 31st Ordinary Session of the African Union Assembly, President Bio said: "Our Council also needs to do more than just issuing strongly worded communiqués", adding that, "It should be borne in mind that words should be translated into action by putting in place punitive measures such as sanctions, especially for those who hinder the peace process as the case may be."
As Chairperson of the Peace and Security Council, President Bio also spoke about peace and security challenges facing Africa: "Our Continent still continues to face lot of challenges such as the dispute over Western Sahara, the conflict situations in Central African Republic, Mali and the Sahel, Libya, the Horn of Africa, South Sudan and the Democratic Republic of Congo amongst others." However, His Excellency also recognized the significant progress which has been made in peace consolidation efforts through the AU Mission in Somalia (AMISOM) and the Multinational Joint Task Force (MNJTF) in the Lake Chad.
The Chairperson reminded his colleagues that: "Let me also recall the Solemn Declaration that was adopted by the AU Assembly during the OAU/AU 50th Anniversary, on 25th May 2013 where, the Heads of State and Government pledged 'not to bequeath the burden of war to the next generation of Africans and undertake to end all wars in Africa by the year 2020'. This declaration was translated into the AU initiative of Silencing the Guns by 2020; a Flagship Project of the First –Ten Year Implementation of Agenda 2063."
President Bio also stated that as a Council, the quest for peace should be the central focus of our mandate, adding that: "For without peace, our aspirations and efforts for a prosperous, integrated, and stable Africa or 'the Africa that we want' will hardly be achieved." He also called for political solutions to ongoing conflicts and engagement with warring parties to ensure that humanitarian assistance reach civilians especially women and children who are the most vulnerable.
During the session, interventions were also made by various Heads of State, Ministers of Foreign Affairs and the Chairperson of the African Union Commission. President Bio also received commendation from many of his colleagues on the admirable manner he chaired the Peace and Security Council.