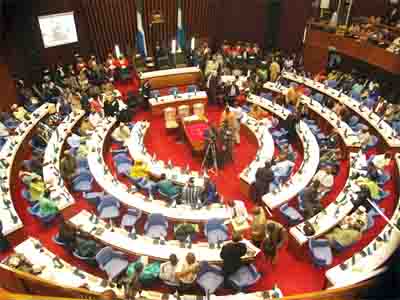 With a lot of praises Members of Parliament (MPs) yesterday 2nd August 2018 unanimously approved 41 Presidential nominees to fill various local and international positions.
Among the approved Presidential appointees are Ambassadors, Deputy Ambassadors, Heads of High Commissions, Chief Executive Officers, and Chairmen of Boards among others.
Presenting the nominees for possible approval the leader of Government Business Hon. Sidi Mohamed Tunis, who also doubles as the Chairman of the Committee on Appointments and the Public Service, said during the various interview sessions they reminded the nominees about Subsection 2 and 3 of Article 8.
He maintained that the eleventh Report of the first session of the Committee portrays the unanimous views of the Committee.
Seconding the motion Hon Mathew Nyuma said the nominees despite being supporters and sympathizers of the SLPP were not appointed on political patronage but on merit, which he is confidence they will fulfill.
He called on them to serve the country rather than political interest especially the Ambassadors who will be the official representatives of the Country internationally, reminding them about Section 61 of the 1991 Constitution of Sierra Leone that gives the President the power to hire and fire.
Hon. Shiaka Sama an Independent Member of Parliament from Pujehun disclosed the nominees before them portrays national characters, adding that the President Bio did met the criteria he is looking out for on Political nominees.
Hon Sama went further appreciated former President Koroma for appointing young people in his office, disclosing that President Bio is currently appointing competent and hardworking young people and women into positions of trust.
The Leader of the Coalition reminded President Bio about the youth unemployment statistic, which according to him is very bad at the moment, disclosing that divisive partisan politics have plagued the nation.
He called on President Bio to do more on appointing youth and women who have suffered a lot.
Hon Emilia Lolloh Tongi another Independent MP from Constituency 001 Kailahun called on the proposed Chief Executive Officer of the Road Maintenance Fund Skeku Mamoud Kanneh to ensure the roads are repaired stating "Sierra Leoneans lack maintenance culture".
She disclosed that it is not how much you live that matters but best you live, urging the proposed Ambassadors to do their utmost best in representing the country in accordance with international best practice.
According to Hon Foday Mario of Constituency 057 Kambia district representing the National Grand Coalition (NCG) their purpose of being in Parliament is not to oppose good things but to provide adequate and effective support in nation building.
The deputy Leader of the All Peoples Congress in Parliament Hon Ibrahim Ben Kargbo, expressed thanks and appreciation to President Bio for his appointment and reminded him about the country's relationship with France as there is the need for a representation in France by the creation of an Embassy in France and other countries.
The Leader of Government Business and the House Hon. Tunis assured the House that plans are on the way to open an Embassy in France and other countries within the shortest possible time.
He commended colleague MP's for their support and contributions towards the approval of the nominees who will be representing the country locally and internationally.
The approved nominees are:
Mr Umaru Dumbuya-Chairman Sierra Leone Marine Time Administration
Dr Francis Mustapha Kaikai-Permanent Representative, Sierra Leone Mission to the United Nations, New York
Mr Saffa Woya Rogers-Deputy Ambassador to Beijing
Dr Brima Patrick Kapuwa-Ambassador to Ethiopia
Mr Eddie Sidikie Massally-Ambassador to Liberia
Mr Hamid Taal- Deputy Ambassador to Guinea
Mr Hassan Alimamy Bangura-Ambassador to Guinea
Dr M'bamba Lamin Baryoh-Ambassador to Germany
Mr Tamba John Sylvanus Lamina-High Commissioner to the United Kingdom
Ambassador Alie Badara Kamara-Ambasador to Iran
Mr Samuel Tamba Musa-Ambassador to Brussels
Mrs Francess Virginia Anderson-High Commissioner to Ghana
Mr Kathos Jibao Matta-Ambassador South Korea
Alhaji Brima Elvis Koroma-Ambassador to Senegal
Madam Lucretia Marian Shereef- High Commissioner to the Gambia
Dr Sao-Kpato Hannah Isatta Max-Kyne-Deputy Commissioner National Commission for Social Action
Alhaji Banie Ellah Seisay-Member Public Service Commission
Mr Peter Joseph Francis-High Commissioner to Kenya
Solomon Momoh Christopher Gembeh-High Commissioner to Nigeria
Mr Charlie Haffner-Chairman Monument and Relics Commission
Morlai Fofanah-Ambassador to Egypt
Haja Ishata Thomas-Ambassador to Kuwait
Joseph Mustapha Hazeley-Deputy Ambassador to Liberia
Harold Bundu Saffa-Deputy Ambassador to Belgium
Samuel Housman Buggie Saffa-Deputy Ambassador to Switzerland
Mohamed Hassan Koroma-Deputy Ambassador to Saudi Arabia
Ms Victoria Mangay Sulimani-Deputy Permanent Representative to the United Nations
Dr Lansana Gberie-Ambassador to Switzerland
Dr Ibrahim Jalloh-Ambassador to Saudi Arabia
Mohamed Yongowa-Ambassador to Russia
Rashid Sesay-Ambassador to United Arab Emirate
Ms Agnes Kumba Dugba-Macauley-Deputy High Commissioner to the United Kingdom
Mr Jonathan Arthur Derrick Leigh-Deputy Ambassador to Germany
Dr Michael Imran Kanu-Deputy Permanent Representative Legal Affairs to the United Nations
Sheku Mahmoud Kanneh-CEO Road Maintenance Fund Administration
Mr Atumani Dainkeh-Deputy Ambassador to Ethiopia
Ing Mohamed Allieu Jalloh-Chairman Sierra Leone Water Company
Mohamed Onanah Jalloh-Executive Director National Youth Service
Mr M.R Koroma-Member Public Service Commission
Mohamed Sherka Kargbo-Chairman Board of Director SIERRATEL
By Alhaji Manika Kamara