Pan-Africanism Working Group
ADEFRA e.V. – Black Women in Germany
ISD – Initiative of Black People in Germany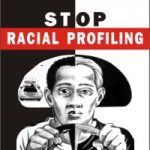 To the petition panel of the German Bundestag Stop racial profiling!
For the first time it was admitted that the German Federal police are using racial profiling as a means of identifying possible "illegal" immigrants.
And the court's decision now officially sanctions this practice. We, the initiators of this petition, condemn this decision and demand:
that the court revises its verdict regarding racial profiling (Feb. 28 2012)

the implementation of an obligatory sensibility/ anti-racism training for the ENTIRE police force; this training ought to go beyond euphemistic terms such as "xenophobia"

that the police is obliged to record all charges of racism made against them (past, present, future), and then have the charges verified and archived by trained experts in an external independent authority

the revision of the AGG (General Act on Equal Treatment), as it presently contains too many loopholes and therefore does not apply in many cases.
The Initiative of the Black People in Germany (Initiative der Schwarze Menschen in Deutschland) is requesting the support and cooperation of all and sundries to sign this petition to enable them appeal against the verdict sanctioned by the Administrative Court in Koblenz – Germany. The Online-Petition will run till 19th July this year for the attention of the Federal Petition Commission and at least a total of 10,000 signatories are needed in order to gain the Commission's attention.
For more information about the campaign please contact the following:
Hadija Haruna, Jonas Berhe, Tahir Della, Sharon Otoo, Anne Chebu
Capaign organisers: Carla Smith, M. A. Isabella Bakirman, Jamie Schearer, Tahir Della