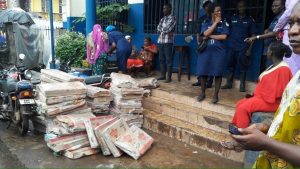 A scramble by thousands of people for scraps of imported rotten chicken sparked a huge stand-off between police and residents in Sierra Leone's capital over the weekend, the health ministry said.
The ministry said health inspectors and police were on the hunt for what remained of a huge consignment of putrid poultry imported from Brazil on July 12 and buried at a rubbish dump after health officials deemed it unfit for consumption.
But thousands of residents in the capital Freetown went to the dump after learning about the vast haul of chicken which they then tried to dig out with shovels, hoes and pickaxes.
Police moved in, using tear gas, stun grenades and rubber bullets to prevent people from removing the contaminated meat after crowds barged past health inspectors.
Police made 40 arrests, adding that three quarters of the chicken had been crushed with mud at the site that is littered with human and animal faeces as well as other domestic and industrial waste, the ministry said.
"We are going to wash, cook and eat the chicken during our family supper," said Aminata Kamara, a mother of three who managed to salvage two bags of the rotten chicken.
Victor Lansana Koroma, director of a local health NGO, demanded the arrest and prosecution of the importer.
"We are worried that some of the rotten chicken if consumed might cause an outbreak worse than Ebola," said Koroma. The country is only just recovering from a recent Ebola outbreak that left over 4 000 people dead.
In Freetown's central district of PZ, imported food stuff including vegetables, fruits and meats can be found spread in the street without proper protection.  It's strictly advised by health experts worldwide that all frozen meats should be cooked immediately when exposed to heat as it may develop disease when kept for more than a limited period of time after defreezing.
Unfortunately, regardless all the frequent outbreaks the country has suffered over the years including cholera, diarrhoea and the resent scandalous Ebola, the country's health department is yet to put in place any control measures against importers and retailers of frozen foods.    
About 75% of Sierra Leoneans live below the poverty line, according to UNDP, majority are jobless youth and women who search for their day bread by every means, including selling or eating remnants of such imported foods.
It must be noted that the Sierra Leonean commercial law has little control over importers as the central government chiefly depends on customs and taxations. Importers always flush into the country's porous market with every garbage including uncertified drugs and food stuff and they can retail such imports at any price without government involvement. The rotten chicken is just one of them.
With all the danger posed by such unhealthy imported chicken, there has been no indication of the importer's name. Which means the government is not ready to set any glaring example against the importer in order to prevent future reoccurrence.
Even though health inspectors have declared the chicken unhealthy and decided to dispose of it, a serious government can slam a heavy penalty  against the importer for risking its citizens lives.  Sierra Leone is not a dumping ground!