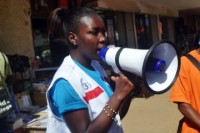 PRESS RELEASE
IN HIS INITIAL BROADCAST TO THE NATION ON 30TH JULY 2014 CONCERNING THE EBOLA CRISIS, HIS EXCELLENCY THE PRESIDENT DR. ERNEST BAI KOROMA ANNOUNCED THE ESTABLISHMENT OF A PRESIDENTIAL TASK FORCE TO CHAMPION THE IMPLEMENTATION OF VARIOUS MEASURES TO FIGHT THE DISEASE. HIS EXCELLENCY ALSO PROCLAIMED A STATE OF PUBLIC EMERGENCY TO ENABLE US TAKE A MORE ROBUST APPROACH TO DEAL WITH THE EBOLA OUTBREAK.
PURSUANT TO SECTION 29(5) OF THE CONSTITUTION OF SIERRA LEONE ACT NO. 6 OF 1991, HIS EXCELLENCY THE PRESIDENT HEREBY MAKES THE FOLLOWING REGULATIONS TO COMPLEMENT THE MEASURES ALREADY IN FORCE:-
OKADA RIDERS IN ALL PARTS OF THE COUNTRY SHOULD OPERATE FROM7 A.M. TO 7 P.M. DAILY;

ALL NIGHT CLUBS, CINEMAS AND VIDEO CENTRES SHOULD STOP THEIR ACTIVITIES WITH IMMEDIATE EFFECT;

ALL MUSHROOM HOSPITALS AND CLINICS SHOULD STOP THEIR OPERATIONS WITH IMMEDIATE EFFECT. A LIST OF SUCH ESTABLISHMENTS WILL BE PUBLISHED BY THE MINISTRY OF HEALTH AND SANITATION;

ALL EBOLA DECEASED SHOULD BE BURIED IN THE AREAS WHERE THEY DIED AND ALL SUCH BURIALS SHOULD BE REPORTED TO THE MINISTRY OF HEALTH AND SANITATION WHICH WILL GIVE NECESSARY CLEARANCE. DEATH CERTIFICATES MUST BE ISSUED BEFORE BURIALS;

THE SIERRA LEONE POLICE SHOULD ORGANIZE REGULAR PATROLS TO PREVENT ARMED ROBBERY AND OTHER ILLEGAL ACTIVITIES INCLUDING THE UNAUTHORIZED MOVEMENT OF EBOLA-INFECTED PERSONS;

EMERGENCY OPERATIONS CENTRES (EOCs) AT DISTRICT LEVEL SHOULD BE ACTIVATED WITH IMMEDIATE EFFECT;

ALL MEANS OF TRANSPORTATION TO THE EPICENTRES OF THE DISEASE WILL BE RESTRICTED;

DONOR PARTNERS ARE IMMEDIATELY CO-OPTED TO BE MEMBERS OF THE PRESIDENTIAL TASK FORCE.
ALL RELEVANT AUTHORITIES AND THE GENERAL PUBLIC ARE ADMONISHED TO STRICTLY ADHERE TO THE REGULATIONS ANNOUNCED HEREIN.
END
7TH AUGUST, 2014
STATE HOUSE
FREETOWN