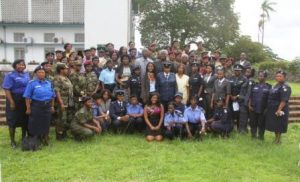 President Dr. Ernest Bai Koroma has reassured women in the Security Sector that his government has taken key steps in addressing issues on women's empowerment.
President Koroma made the assertion while addressing a meeting held with women in the security sector, and acknowledged issues raised by the organization.
He said government is mainstreaming to indicate the highest level of political will and commitment towards women's empowerment` observing that government has made more efforts on empowering women and will continue in that direction.
President Koroma told them that the relevant ministries will look into the concerns raised in various sectors, reiterating that his administration has provided many spaces for women's participations in governance.
President of Women in Security Sector, Mrs. Francis Nuyma on behalf of the entire membership sounded a congratulated the President at the past presidential elections.
She described the organization as an equal platform for the mainstreaming women's issues and called on government for the incorporation of national security into the gender policy.
Mrs. Nuyma said significant moves have been made to dispel the myth that the security is meant for men alone, noting discrimination and low level of female representation in sector.
She said women are being discriminated against due to unfriendly circumstances particularly on promotions and deployment in peace missions, among others, to render women underutilized.
She therefore implored government to develop more gender response policies in the security sectors.