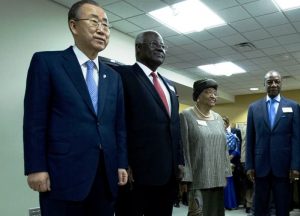 African leaders including President Ernest Bai Koroma of Sierra Leone concluded an African Union (AU) International Ebola Conference Tuesday in Malabo, capital of Equatorial Guinea in West Africa.
"All the trips being undertaken by President Dr. Ernest Bai Koroma from Guinea Conakry, Brussels, Washington, DC, New York, and now Malabo in Equatorial Guinea are a further demonstration of his profound and unfettered commitment to defeat the Ebola Virus Disease (EVD," said Abdulai Bayraytay, Government of Sierra Leone Spokesman said about President Koroma's participation in a statement via email.
"And get to zero cases not just in Sierra Leone, but in the sub-region that way, the conscientious efforts in re-tracking Sierra Leone's post-Ebola recovery programs could be done without any distraction from the Ebola scourge," Bayraytay said.
During the two-day conference titled "Africa helping Africans in the Ebola Recovery and Reconstruction," the leaders shared experiences in Africa's fight against Ebola and discussed post –epidemic recovery and reconstruction for Ebola-affected countries.
They urged for more additional support to get to zero and support recovery efforts for the badly affected countries, Sierra Leone, Guinea and Liberia. The leaders also announced areas of assistance from Member States and key partners to strengthen health systems of affected countries, particularly human resources for health, training and capacity building, resuscitate health infrastructure and to invest in public health.
"As we move from emergency situation to stabilization, all three countries are implementing a robust social and economic recovery program in response to the consequences of the disease and to ensure greater resilience," President Koroma said during the conference.
The leaders were able to accomplish an adoption of the Statute of the Africa Center for Disease Control as a specialized technical institution charges with the responsibility to promote the prevention and control diseases in Africa, according to a communiqué issued by the AU.
The leaders also strongly endorsed The African Medicines Regulatory Harmonization Plan to implement a Pharmaceutical Manufacturing Plan for Africa to facilitate ethical clearance and oversight for clinical trials of new therapies, vaccines, health technologies and aims to enable African countries to fulfill their national obligations to provide all citizens with safe, quality and efficacious essential medicines.
"We must do everything possible to establish an Africa CDC that is robust and capable enough to conduct lifesaving research on priority health problems," said Dr. Mustapha Sidiki Kaloko, Commissioner for Social Affairs of the African Union.
Ebola brought about overwhelming challenges in almost every aspect of life in Sierra Leone, Liberia and Guinea almost collapsing the three countries fragile health systems, diminishing economies and projected economic growth in Sierra Leone declined from 11.3 % to 6%, Guinea from 4.5% to 1.3% and Liberia from 5.9% to 0.4 % respectively.
The AU say the multi-layered recovery program which will address several issues including health, water, sanitation, hygiene, governance, peace and security, agriculture, fisheries, food security, gender, youth, social protection, sub-regional roads, energy access, information and communication technology requires US$ 4.75 billion to the economic and financial cost of the epidemic but current funding deficit stands at US$3.93 billion.
The international community made some $3.4 billion in pledges at the recent UN Ebola Recovery Conference in New York. The UN said Sierra Leone, Liberia and Guinea need an estimated $3.2 billion to support their national recovery plans for the next two years but President Ellen Johnson-Sirleaf of Liberia said they need $4 billion for a sub-regional recovery plan.