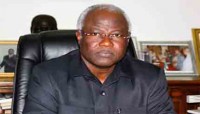 President Dr Ernest Bai Koroma on Saturday 13th September urged the Emergency Operations Center (EOC) to improve on the response time for the deployment of contact tracers, surveillance officers and burial teams in the field. He made this admonition during the EOC meeting held to finalize the preparedness checklist and give specific responsibilities to each of the preparedness areas during the 3 day house to house campaign to commence on 19th to 21st September, 2014.
Addressing the meeting, the President revealed that he had made several calls to 117 call center, especially after midnight with mixed results, saying that sometimes people pick up, sometimes they don't. This, he said, was unacceptable, and admonished the EOC to speed up, upgrade and further reform the call center. He also lamented the fact that there are too many complains on social media that dead bodies are not picked on time by the burial teams. President Koroma further urged the EOC to set targets and deadlines to put closure to the preparedness, planning and thoroughly supervise the training of trainers, social mobilizers, and community health workers.
The meeting discussed a wide range of issues starting from the establishment of beds for isolation, identifying, basic training and scheduling of doctors, nurses and other staff, get burial teams to work as early as 8: 00 am, the issue of how to get medical supplies to the PHUs identified as isolation centers, preparing full inventory of vehicles and 'Paper Allocation' of vehicles and drivers with the relevant staff. They also reviewed the issue of incentives for medical staff, the 117 Hotline operations, feeding centers and vulnerable groups, security and public information and communication.
In a related development, President Koroma traveled to Gbomsamba in Port Loko district on an inspection tour of the proposed construction site for a treatment center serving the north of the country.
During a stopover at the Police Training Center at Hastings, the President also inspected the hospital facility provided by the Sierra Leone Police to help halt the spread of Ebola in the Western Area. The facility has a 100 bed capacity and will be ready by Tuesday 16th September. It was also revealed that a 59 man Chinese team is expected to fly into the country to help with the fight against the disease, and would be working at this center.
President Koroma described the PTS hospital as a pleasant surprise and thanked the Inspector General of Police, IG Francis Munu, for the effort.
At Gbomsamba, President Koroma directed the Minister of Health and Sanitation, Dr Abu Bakarr Fofanah to make funds available immediately for the contractor, CL Group, to speed up the work. Daniel Kosseh, Site Engineer for CL Group promised to deliver within three weeks.
Meanwhile, the President instructed for temporary tents to be erected at the site and for SLRA to clear up the area to make it more accessible.
The center will have a convalescence ward and a capacity of 100 beds.