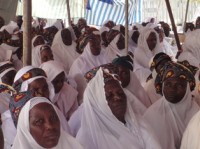 Sierra Leone's President, Dr. Ernest Bai Koroma has congratulated the 916 Sierra Leone pilgrims that are currently in the Kingdom of Saudi Arabia on the successful completion of their pilgrimage.
Delivering the congratulatory message on behalf of the President at the holy site of Arafat on Monday, 14th October, 2013, an Assistant to the President, Alhaji M.S Kargbo who is also the Deputy Chairman of the 2013 Sierra Leone Hajj Team to Saudi Arabia told the pilgrims that the President had telephoned and congratulated all the pilgrims for successfully performing this year's Hajj. He said the president was very much concerned about their welfare since they left the shores of Sierra Leone early this month.
Hon. Alhaji Moijueh Kai Kai, Chairman of the Hajj Team also extended President Koroma's appreciation to the Custodian of the Two Holy Mosques, King Abdullah Bin Abdul Aziz al- Saud, his Government and particularly the Chairman of the Supreme Hajj Committee for the excellent facilities and arrangements put in place for use by the pilgrims in this year's Hajj season. Kai Kai added that pilgrims performed the Hajj rituals with ease and comfort due to the excellent services and facilities provided to them by the Saudi Government and its hospitable people.
In a related development, Sierra Leone's Ambassador to the Kingdom of Saudi Arabia and Permanent Representative to the Organization of Islamic Cooperation (OIC), Wusu B. Munu has also expressed gratitude to all Sierra Leoneans in the Kingdom of Saudi Arabia for providing adequate support to the pilgrims.
M.B Jalloh, Press Attaché in the Sierra Leone Mission in Riyadh who delivered the Ambassador's message also congratulated the pilgrims for a successful pilgrimage. He commended them for their cooperation with both the Hajj Mission and the Embassy since their arrival.
Jalloh also expressed his appreciation on behalf of the ambassador for the unprecedented services and facilities made available to their pilgrims by the Saudi authorities which enabled them to perform their Hajj rituals easily and hassle-free.
Pilgrims offered special prayers for the progress, prosperity, peace and sustainable development in Sierra Leone. They also prayed for their leader, Dr. Ernest Bai Koroma and for unity, progress and peaceful co-existence in all corners of the country. President Koroma has been widely hailed for his relentless support to Sierra Leone pilgrims since Government took over the pilgrimage affairs in 2010.
In the past, Hajj operations were marred by puzzling logistic challenges and the gross ineptitude of both airlines and Hajj agencies. Pilgrims had in the past been subjected to untold hardships to the extent that a lot of them would swear never to have anything to do with the exercise, if not for its religious implications to the Muslim world.