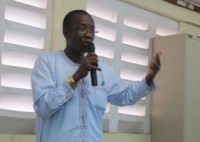 THE GENERAL PUBLIC IS HEREBY INFORMED THAT IN ORDER TO CREATE A CONDUCIVE ENVIRONMENT FOR MORE EFFICIENT AND EFFECTIVE HANDLING OF THE EBOLA OUTBREAK IN THE COUNTRY, IT HAS BECOME NECESSARY FOR CHANGES TO BE MADE IN THE POLITICAL LEADERSHIP OF THE MINISTRY OF HEALTH AND SANITATION. IT HAS THEREFORE PLEASED HIS EXCELLENCY THE PRESIDENT DR. ERNEST BAI KOROMA TO ANNOUNCE THE FOLLOWING APPOINTMENTS, SUBJECT TO THE APPROVAL OF PARLIAMENT:
DR. ABU BAKARR FOFANAH – MINISTER OF HEALTH AND SANITATION
Ms. MADINA RAHMAN – DEPUTY MINISTER OF HEALTH AND
SANITATION II
Ms MIATTA KARGBO HAS BEEN RECALLED TO STATE HOUSE TO SERVE IN THE STRATEGY AND POLICY UNIT UNTIL FURTHER NOTICE.
IN ADDITION, THE EBOLA RESPONSE PLATFORM HAS BEEN RECONFIGURED AS FOLLOWS:
1. IN THE CASE OF THE INTERMINISTERIAL COMMITTEE, IN ADDITION TO THE RELEVANT MINISTERS, ITS MEMBERSHIP WILL INCLUDE THE UNITED NATIONS RESIDENT COORDINATOR, THE CHIEF MEDICAL OFFICER AND THE WORLD HEALTH ORGANISATION (WHO) REPRESENTATIVE.
2. THE RECONSTITUTED EMERGENCY OPERATIONS CENTRE (EOC) WILL BE CO-CHAIRED BY THE W.H.O REPRESENTATIVE AND THE CHIEF MEDICAL OFFICER. HIS EXCELLENCY THE PRESIDENT HAS GRACIOUSLY APPOINTED MR. STEPHEN GAOJIA AS OPERATIONS COORDINATOR IN THE EOC.
3. THE PRESIDENTIAL TASK FORCE WILL RETAIN ITS PRESENT COMPOSITION.