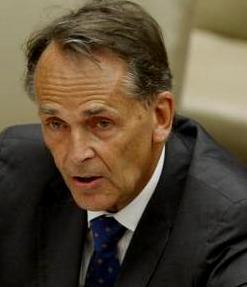 The United Nations was pressured by the president of Sierra Leone to cut short the tour of its mission chief ahead of an election later this year, the envoy said in a letter seen by Reuters on Monday.
Michael von der Schulenburg, who had been expected to stay until next year but has just left, told his headquarters in a December 22 letter that the United Nations' credibility and success story in the West African state risked being undermined if it caved in to "unreasonable and unjustified pressures."
A spokesman for the United Nations would not comment on the letter while a spokesman for President Ernest Bai Koroma denied he had ever called for the United Nations to withdraw the mission chief.
The election, slated for November, will be a test of what the United Nations has touted as a success story for a reconstruction effort following 11 years of war that ended in 2002. The removal of the outspoken Schulenburg risks disrupting international oversight of the vote as his replacement will have little time to become established in the local political scene. "There can be little doubt, that the decision by the President to force my early departure will be seen – rightly or wrongly – by virtually every Sierra Leonean as an effort to remove a potential obstacle to his re-election and as opening the door to manipulating the election outcome in his favor," Schulenburg wrote in the letter.
"I also feel that we should engage the President directly over his sudden flair of hostility towards me before giving in to his request for my departure," he added in the letter to Lynn Pascoe, U.N. undersecretary-general for political affairs. Schulenburg was expected to run the U.N.'s Integrated Peacebuilding Office in Sierra Leone until after November's elections, but left this month.
Several diplomats contacted by Reuters said he had been withdrawn as a result of pressure from the president. The United Nations has not given any reason for Schulenburg's early departure. In New York on Monday, U.N. spokesman Martin Nesirky said: "I can't comment on leaked internal communications."
When asked if Koroma had called for the U.N. envoy's departure, Unisa Sesay, the president's spokesman, said: "As far as I know, that did not happen." Sierra Leone's civil war lasted 11 years and left some 50,000 dead. It finally came to an end in 2002, after a British military intervention stiffened a floundering U.N. peacekeeping mission.
U.N. troops withdrew from Sierra Leone in 2005 but the body retains a 200-head mission with a mandate to help ensure the forthcoming election is peaceful and credible. In the letter, Schulenburg warned that the United Nations risked losing the opportunity to claim Sierra Leone as "our success story."
"Many Sierra Leoneans (as indeed many among the international community) may see the U.N. as readily caving in to unreasonable and unjustified pressures without making even the slightest attempt to protect the position as the Secretary-General's representative in this country," he said.