By Alhaji Jalloh, Information Attache', Saudi Arabia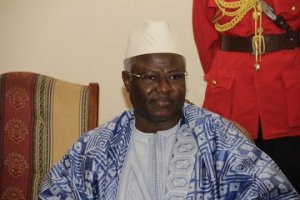 President Koroma
The Emir of the State of Qatar has invited Sierra Leone's President to attend the Forum on the Fourth United Nations Alliance of Civilizations to be held in the capital, Doha, home of the Al-Jazeera News Network, from 11-13th December, 2011.
In his letter of invitation, His Majesty Sheik Hamad bin Khalifa Al Thani said he looks forward to H.E Dr. Ernest Bai Koroma's "political and moral support in order to contribute to its success and realization of its objectives".
Explaining the aim of the forum, the Emir wrote: "The forum which the State of Qatar has the honour to host aims to launch the initiatives to increase the understanding and dialogue of civilizations among the peoples in order to support the efforts undertaken by the International Community to achieve peace, security and global partnership for development."
Over 2000 participants are expected to attend – among them, world leaders, ministers, parliamentarians, civil society groups, etc. And President Koroma is expected to be accompanied by senior cabinet ministers, including, Foreign and International Cooperation, Finance and Economic Development and Information and Communications, Joseph Bandabla Dauda, Samura M.W Kamara and Ibrahim Ben Kargbo respectively.
In her welcome message, Ambassador of Alliance of Civilizations, Moza Bint Nasser, said the Doha Forum will provide the opportunity for governments, civil society organizations and international agencies alike – to meet together as partners to further reiterate their commitment to building a culture of peace and dialogue among civilizations.
"New thinking and innovative approaches are urgently needed to face the growing challenges in vital areas such as education, health, poverty, youth, media and culture. Both the Alliance of Civilizations and the United Nations Millennium Development Goals provide mechanisms to tackle challenges in these areas", Nasser added.
Speaking shortly before he left for the Forum last night, Sierra Leone's accredited Ambassador to the State of Qatar based in the Kingdom of Saudi Arabia,Wusu B. Munu said, "in view of the of the good bilateral relationship between the State of Qatar and the Republic of Sierra Leone, the high recognition accorded to our president and the importance of the forum, it's very good that our President has honoured the invitation."
The State of Qatar is one of the richest countries in the Gulf region. Oil and gas have made the Arabian Gulf State one of the fastest-growing economies in the world and the pace of modernization in Qatar is growing every year. It is the headquarters of Al-Jazeera Satellite Channel and of the Qatar Foundation's Education City, one of the most ambitious and far-reaching centers for education and research in the Middle East.