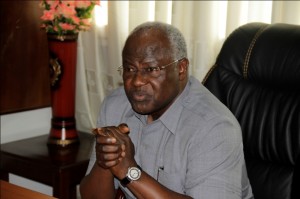 "We have transferred billions of Leones to the Kenema city and district council to develop Kenema," president Koroma said during the opening of the much publicised new Kenema shopping centre last Friday.
He was responding to accusations that his government has done very little to invest and promote economic and social development in the south and east of the country, regarded as opposition SLPP strongholds.
Presidential and general elections are just weeks away and already, the propaganda machines are being well oiled.
But just as the ink was beginning to dry on the paper on which the president wrote his Kenema speech, accusations of gerrymandering, nepotism and regional marginalisation were the focus of media debates in Freetown.
The government's political adviser – Alpha Kanu, has been accused of lying about the performance of the government and for deriding the achievements of the former SLPP government.
At the centre of the latest political row is the construction of a shopping centre in Kenema, which the government is promoting as a major achievement after five years in office.
But unemployment – especially youth unemployment is said to be well over 80% in the city of Kenema and other southern districts.
Speaking at the opening ceremony last Friday, the president was upbeat about his government's investment and transfer of state funds to southern and eastern based local councils. This is what he said:
"I am honoured to be here this morning to officially open the Kenema Shopping Plaza. Kenema is a great city, and a great city deserves a great shopping plaza.
"A great city needs modern roads both within the city itself and on highways leading to other towns and cities. This is why my government invested time, resources and energy in constructing the roads within the city; that is why my government constructed the road from Kenema to Bo and Freetown.
"That is why my government is constructing the road from this city to Segbwema, Pendembu and Kailahun.
"A great city needs access to healthcare for its mothers, its pregnant women and children, a great city needs medical stores, and a great city needs to have its own sons as ministers. My government has ensured all these for the great city of Kenema.
"My government is one of national service; when we build roads, we build them everywhere, when we rehabilitate hospitals, we do that everywhere, irrespective of which party claims it as their stronghold.
"For us, our stronghold is where we construct strong buildings, it is where we construct good roads, it is where when we say a town has become a city we do not just change the status on a piece of paper, we do things that make everybody say this place is indeed a city.
"We have transferred billions of Leones to the Kenema city and district council to develop Kenema. This is more than any government has transferred to this great district.
"We gave the Kenema District 300 million to build drying floors shelter houses and procure rice haulers, 350 million to build market facilities at Bendu Junction in Nongowa Chiefdom, and hundreds of millions more to build market facilities, classrooms and community centres.
"We gave the Kenema City Council almost 600 million to construct the market at Koker-Jah Street and Humuya Avenue; 250 million to construct two other markets, over three hundred million to construct the fire force fence, over 128 million to construct a maternal health post and we are transferring over 2.3 billion for the completion of the Kenema City Hall.
"We have given billions to the city and district councils to develop this great district, far more than what was given by previous governments.
"We have added unto the electricity supply from 4.2 megawatts to 6.4, we have built agricultural business centres all over the district and region, we are providing hundreds of millions for the rehabilitation of Bunumbu, and we are improving the condition of service of lecturers here at the Eastern Polytechnic.
"We increased the salaries of MPs, including the ones from this district and provided tens of millions of Leones to them to support development of their constituencies. We are committed to doing more; we are a government of action.
"And we know that people of this city, this district and this region are grateful.
"This city is center of religion in this country; I see great mosques and churches in this city and district, and we know that these religions teach gratitude and appreciation.
"Kenema is our stronghold because we have done great things here; the Eastern region is our stronghold, the whole of Sierra Leone is our stronghold because we are transforming all districts in the country.
"This shopping plaza built by NASSIT is an example of this transformation. I have been associated with NASSIT since its conceptualization and served as Chairman of the Interim Establishment Board appointed for the setting up of the organization.
"The law which established NASSIT was very clear on its mandate – that is to pay retirement and other benefits to members and their dependants. This function they have discharged and continue to discharge diligently.
"As a Trust you should not lose sight of this role. Pensions, the world over are replacements of one's lost income. Having laboured throughout one's productive years, one should go into retirement with honour and dignity.
"That is why our government has ensured increases in pensions paid out to pensioners, and we shall continue to ensure these increases.
"Going back to the NASSIT Act, it is not all the NASSIT funds that are used in the payment of current pensions. Monies that are not used are supposed to be invested.
"Today, I am here to commission one of such investments. The construction of this shopping plaza will not only be creating job opportunities for Sierra Leoneans but will add to the aesthetics of the Kenema City.
"The Kenema City is the first to have this ultra-modern one stop shopping centre in the country.
"Let me at this point thank all those who in diverse ways contributed in the realization of this noble venture. I applaud the cooperation between NASSIT and the city council; I applaud the architects, the contractor, the work men and women, and even the cookery seller whose skills ensured that the workmen and ordinary labourers had good meals while working on this most beautiful building.
"Mr. Chairman, distinguished ladies and gentlemen, it now my singular honour to declare the Kenema Shopping Plaza open and to also officially launch the 10th Anniversary celebrations of NASSIT."
The country's main opposition SLPP and many political observers say that president Koroma's speech in Kenema was an electioneering gimmick, to which the people of the south will pay very little attention, as election approaches.
But the reality is that in African politics, perception is what matters. Has the president done enough to garner at least 40% of the votes in the south of the country to secure a second term?
The capital Freetown and the eastern district of Kono will decide his fate in November.