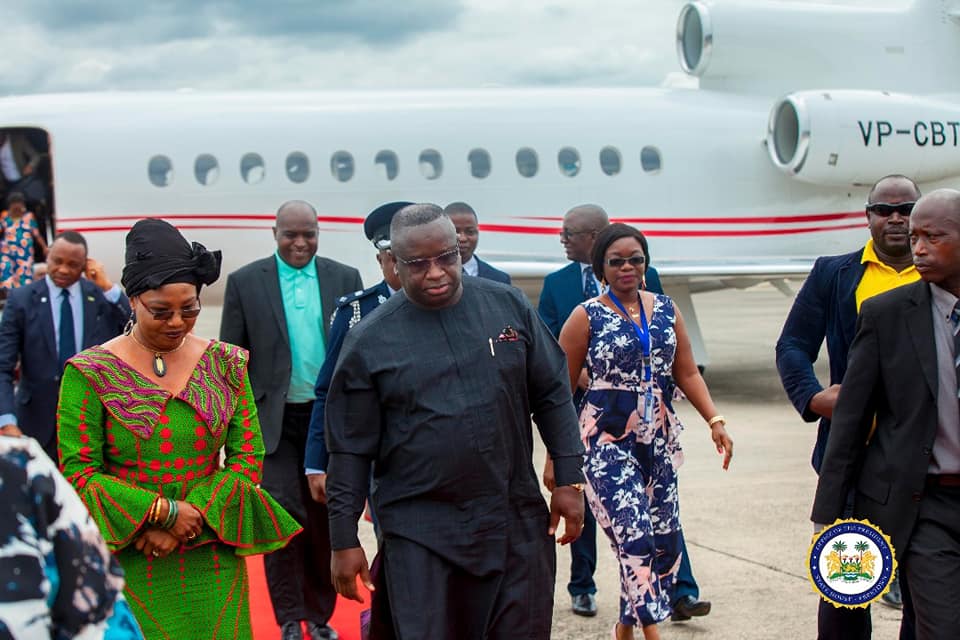 His Excellency President Julius Maada Bio has returned home today, Wednesday after attending the ECOWAS – ECCAS Summit in Lomé, Togo which was held on 30th – 31st July 2018.
President Bio's return has drawn the curtain on the mischievous rumours regarding ill-health. With his enduring commitment to serving the people, on arrival at the Lungi International Airport, His Excellency President Julius Maada Bio instructed that he wanted to proceed to his Office at State House and complete the day at work. This was contrary to the usual routine wherein past Presidents from overseas trips will prefer to go home and rest.
In a very upbeat mood and relaxed disposition, President Bio was greeted by throngs of people along the streets as he was driven to State House. As he waved to ordinary people, many showed uncontrolled emotion of joy while other excited people described the rumours as cheap, evil and unpatriotic against the President.
Earlier in Lomé on Tuesday 31st July 2018, during the closing ceremony of the 53rd Ordinary Session of the Authority of Heads of State and Government of ECOWAS, His Excellency President Julius Maada Bio was appointed by his colleagues to move the vote of thanks.
Also, en route to Freetown, His Excellency President Julius Maada Bio made a brief stop in Ouagadougou, Burkina Faso, where the First Lady, Her Excellency Mrs. Fatima Bio will be attending an international conference.