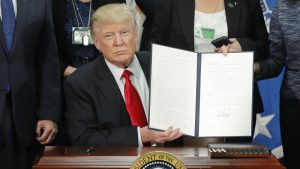 Presidential Spokesman, Abdulai Bayraytay confirmed on Wednesday that the United States has placed restrictions on business and tourism visas for Sierra Leone immigration and foreign affairs ministry officials.
The Trump administration visa restrictions on four African and Asian countries including Sierra Leone became effective on Thursday, September 14, 2017 after they refused to accept deported citizens from the United States
"We received that message through the Ministry of Foreign Affairs and International Cooperation in a diplomatic mail that indeed because of non compliance, Sierra Leone will have B2 Visas for Immigration as well as Foreign Affairs people restrictions on their visa applications," Bayraytay said during a phone interview from his office in Freetown.
He said the government is addressing the issue through the Sierra Leone embassy in Washington which is currently processing 27 people purportedly Sierra Leoneans who are slated for deportation to verify their identities so as to issue them with traveling certificates for repatriation to Sierra Leone.
There are speculations that the embassy in Washington previously couldn't provide the deportees with emergency traveling certificates because they aren't bona fide Sierra Leoneans who may have obtained Sierra Leonean passports illegally.
Bayraytay said "Well that has been the argument of the US Homeland Security because as far as we are concern as a nation we have been very much compliant when it comes to immigration and customs enforcement."
He added the argument has been since they entered the United States with traveling documents issued by the government of Sierra Leone they are therefore Sierra Leoneans. "Which we know we have seen situations during the course of the conflicts we have seen people who traveling with different passports not only from Sierra Leone but different parts of the world."
"Once we established those are Sierra Leoneans we will not going to disown them as a country because we are also under international law not to make our own citizens stateless," Bayraytay acknowledged.
When asked how the visas restrictions would impact President Koroma's delegation in the foreign affairs ministry when he travels to the 72nd UN General Assembly General where he is scheduled to deliver an address on Thursday, September 21?
Bayraytay clarified that the restrictions do not apply when foreign affairs ministry and immigration officials are on official assignments.
"On official assignments they are still qualify to be issued visas as long as they meet the criteria set by the US Government. It is when they go on business or private visit that is when the B2 criteria will bite them."
Ambassador Bockari Stevens, Sierra Leone Ambassador to the US did not respond to a request seeking comments to clarify the issues by press time.
It is very likely that the restrictions will soon be lifted because foreign affairs ministry spokesman Emmanuel Turay issued a statement on Wednesday that Sierra Leone's embassy in Washington will issue emergency traveling documents to the 27 people slated for deportation who he said have been convicted of crimes in the United Sates including drug offenses.
This will in effect resolve the conflict that triggered the visas restrictions.