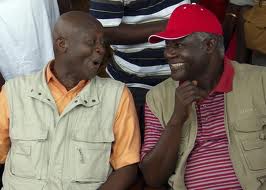 The outgoing leader of the People's Movement for Democratic Change (PMDC), Mr. Francis Charles Margai, has recently written a letter to President Ernest Bai Koroma requesting for relieving Ministers appointed under the PMDC ticket and serving the ruling APC government immediately. In his letter to the President, Lawyer Charles Margai noted that it was unanimously agreed by the PMDC that all their appointed Ministers should step down before the 2012 general election to enable them take part in national politics. "Ministers should have resigned their positions in December 31st 2011," Margai was quoted to have written in the letter.
On behalf of the PMDC Ministers serving in the current government, Dr. Soccoh Kabia, the Minister of Fisheries and Marine Resources, referred to the letter written by the outgoing leader of the PMDC, as a big joke as he put it: "Margai does not have the constitutional mandate to make such dictates". Dr. Kabia categorically maintained that he is not going to resign, saying that he is serving the people of Sierra Leone. The Minister further said: "I find it amusing to resign. I am not going to resign as President Koroma is working well and Margai's letter has nothing to do with promoting national interests."
He therefore urged the outgoing leader of the PMDC to stop confusing the people of this country and withdraw what he referred to as his "unsubstantiated" letter. "This is not about individuals but principles," the Minister maintained.
In a similar vein, the Deputy Minister of Transport and Aviation, Hon. Oswald Hanciles, stated that the motion was indeed brought up at a time by Mohamed Bangura, the leader of the United Democratic Movement, who was one-time the National Chairman of the PMDC but that nobody supported it.
Currently, there are seven Ministers from PMDC serving the ruling APC government who are not likely going to dance to the dictates of Charles Margai. "The issue now lies on President Koroma who has the prerogative powers to hire and fire and not Mr. Francis Charles Margai," some aggrieved PMDC Ministers told The Exclusive.