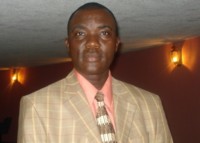 When President Koroma was elected in 2007 some of us welcomed him faithfully because we thought the best democratic nation is the one that rotates its seat of power. But one of the major signs of disappointment which signaled to us that nothing was going to change was his failure to defragment the country after a long period of tribal and regional fragmentation. He kept concretizing the dreadful and unfaithful system of regional and tribal based politics which is speedily reversing the country to the past era of conflict. Most of his appointees are either his party supporters or tribesmen. His first six months in office became a period of revenge and retributive justice against those he perceived to be supporters of his predecessors and descendants of other clans, thereby fanning the flame of political grudges and tribal detestation.
Dr. Richard Konteh, a well known corrupt intellectual, was one of the numerous kin and kiths the president selected to lead public offices. He was quickly named in an unethical contract scam while serving as Deputy Minister of Finance and Economic Development. In less than 12 months he erected one of the mightiest houses in the western part of the city. Being kinsman of the president, Dr. Konteh was promoted to Minister of Trade and Industry as if he was compensated for what he did in the Finance Ministry. Few months later, he was allegedly caught fetching water to his family residence in the northern city of Makeni, using tractors which were imported by government to boost agriculture and minimize hunger and poverty for ordinary citizens. As if that was not enough evidence, the president promoted him again shortly after the last elections to Chief of Staff, a symbolic custodian of state house. Some of his responsibilities include, but not limited to, monitoring and evaluating the performance of other government appointees including ministers. Some government ministers and head of departments were eventually sacked upon his recommendations. This was why we questioned the effectiveness of President Koroma's performance contracts.
However, Critique Echo didn't relent questioning Dr. Konteh's integrity since he was first appointed in Finance ministry. For in-depth investigations have proved that when Dr. Konteh left Germany after his studies, he took up an appointment in Nigeria which ended less enviably. We kept ringing bells about his past records but ayah! a government elected on tribal line shall never recognize facts about its appointees hence they are kin and kiths. Not until yesterday, when President Koroma finally realized that Critique Echo deserves a credit for questioning Dr. Konteh's integrity, after he was found wanton of high class corruption practices which finally shows the general public his true color. Bellow is a press release strenuously issued to the effect by the office of the president:
T HAS COME TO THE ATTENTION OF HIS EXCELLENCY THE PRESIDENT THAT DR. RICHARD KONTEH, CHIEF OF STAFF IN THE OFFICE OF THE PRESIDENT WAS NOT OPEN AND TRANSPARENT IN THE CONDUCT OF OFFICIAL NEGOTIATIONS FOR A MINING AGREEMENT WITH A PRIVATE SECTOR OPERATOR, THEREBY VIOLATING ESTABLISHED POLICY, UNDERMINING EXISTING INSTITUTIONAL ARRANGEMENTS, AND EXPOSING GOVERNMENT TO POTENTIAL LOSS OF REVENUE.
IN ANOTHER MATTER INVOLVING THE ILLEGAL EXPORT OF TIMBER FROM SIERRA LEONE, THE SIERRA LEONE POLICE ARE INVESTIGATING AN UNAUTHORISED EXECUTIVE ORDER ALLEGEDLY ISSUED BY DR. KONTEH GRANTING AN OPEN-ENDED MANDATE TO THE TIMBER HARVESTERS, PROCESSORS AND EXPORTERS (SL) LTD TO UNDERTAKE THE EXPORT OF AN UNLIMITED QUANTITY OF VALUE-ADDED PROCESSED TIMBER, IN DIRECT CONTRAVENTION OF THE APPROVAL GRANTED BY HIS EXCELLENCY THE PRESIDENT FOR A FIXED QUANTITY OF 30 CONTAINERS ONLY.
AGAINST THIS BACKGROUND, HIS EXCELLENCY THE PRESIDENT HAS DECIDED TO RELIEVE DR. KONTEH OF HIS DUTIES WITH IMMEDIATE EFFECT WHILE THE POLICE CONTINUE WITH THEIR INVESTIGATIONS.
If the President is really sincere about investigating Dr. Konteh, he should start it from his unexplained wealth.