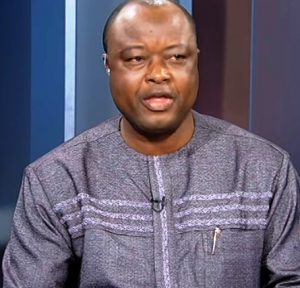 Former vice president of Sierra Leone Alhaji Samuel Sidique Sam Sumana will know his fate when the ECOWAS Court reconvenes in Abuja, Nigeria for a hearing on his $210 million lawsuit challenging the Government of Sierra Leone for what he calls his "unconstitutional" removal from office.
"The case is set for judgment on 22 November, 2017 for Violation of the plaintiff [Mr. Sumana's] human rights," said Mr. Felicien Hounkanrin, ECOWAS Court Information Officer confirming the hearing from his office in Abuja on Tuesday.
Mr. Sumana's case ECW/CCJ/APP/38/16 will be heard by a three-man panel led by Justice Hameye Foune Mahal-madane, Justice Friday Chijioke Nwoke and Alioune Sall. 
His attorney Femi Falana, a Nigerian lawyer and human rights activist said that Mr. Sumana dragged the Government of Sierra Leone to the ECOWAS Court for infringement of his fundamental rights by removing him from office illegally.
He told the court on June 30, 2017 that Mr. Sumana removal from office as vice president of Sierra Leone was "unlawful, injurious and deprived him of his right to the protection of the law as well as his right to participate in government and governance."
Lawyer Falana argued that Sierra Leone Supreme Court betrayed Mr. Sumana by denying him a fair hearing and he was also prevented by President Koroma to explore the ruling APC party's "internal dispute resolution mechanism" when he was replaced by Victor Bockarie Foe even before his appeal hearing.
Sierra Leone Attorney General Joseph Fitzgerald Kamara filed a response to the court asserting that ECOWAS Court doesn't have jurisdiction to the case which has been adjudicated by Sierra Leone Supreme Court.
Speaking from his hotel room during a phone interview upon his arrival in Washington, DC past Thursday for a Town Hall Meeting with the Sierra Leone Diaspora in DC, Maryland and Virginia, Mr. Sumana insisted the Government of Sierra Leone is using delaying tactics by not appearing in court for two hearings in April and June 2017 respectively.
He maintained that he was wrongfully removed because he didn't support President Koroma's ambition for a third term in office and claimed that he has sufficient evidence to prove that the "Timbergate" scandal, a television documentary investigation of illegal logging and alleged bribery in his former office was a setup by President Koroma to demonize and remove him from office.
He also acknowledged during the phone interview that he is a member   of the Coalition for Change (C4C) political party and he is vying for flag bearer candidate of the party in the upcoming March 2018 Sierra Leone Presidential elections.