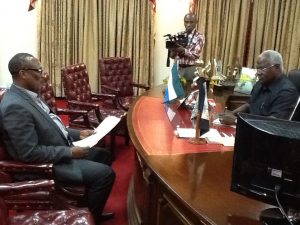 Ambassador Extraordinary and Plenipotentiary of the Republic of Guinea Adikali Foday Sumah has presented information and technology items being a gift from the Government of the custodian of the two Holy Mosques of the Kingdom of Saudi Arabia to the Government Sierra Leone.
The consignment was received in Conakry by the Ambassador to Guinea on the 12th of December on behalf of the government of Sierra Leone and travelled by land for onward delivery to the Government of Sierra Leone in Freetown.
The items worth about 1.1 million ryals equivalent to 500 thousand US Dollars. Ambassador Sumah upon receiving the items expressed thanks and appreciation on behalf of the government to the Kingdom of Saudi Arabia through their Ambassador in Guinea, Ambassador Al Badawe.
According to Ambassador Sumah, the Saudi Arabian Government is supporting us with the dissemination of info through the media and info outlets in the country. He profusely thanked the Kingdom on behalf of government for the consolidation of bilateral relations between the two countries.
Receiving the items, President Koroma thanked the Ambassador for the effort in trying to engender inclusiveness in the governance of the country, saying that the support is a timely one at this point in time.