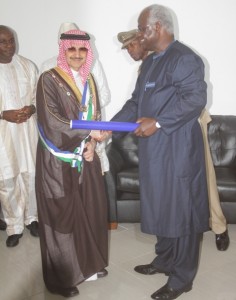 PRESIDENTIAL LOUNGE, Lungi International Airport, Monday 10th June, 2013/- In recognition of the tireless efforts being made by the astute and transformative leadership of President Dr Ernest Bai Koroma in improving the health sector as well as promoting youth employment and empowerment, His Royal Highness Prince Alwaleed Bin Talal Bin Abdulaziz Alsaud yesterday donated the sum of $1 million United States dollars to complimenting government's efforts in providing free health care and addressing youth employment and empowerment in Sierra Leone.
The donation was made during the special ceremony for the presentation of the honorary award of Grand Commander of the Republic of Sierra Leone (GCRSL) to H.R.H. Prince Alwaleed Bin Tala Bin Abdulaziz Alsaud at the Presidential Lounge, Lungi International Airport on Monday 10th June, 2013.
The Prince who was given a red carpet welcome amidst rapturous drumming, dancing and singing said shortly after receiving the highest award in Sierra Leone from His Excellency Dr Ernest Bai Koroma, that from the citation, Sierra Leone knows a lot about him.
He acknowledged the huge investment potentials of the country and pledged the sum of $1 million from the Bin Family Foundation to support government's health care and youth empowerment initiatives.
At the power point presentation ceremony done by the Sierra Leone Investment & Export Promotion Agency (SLIEPA) on the investment climate and opportunities in Sierra Leone, the H.R.H. Alwaleed Bin Talal Bin Abdulaziz Alsaud said his team will study the document and get back to SLIEPA for the way forward.
His Royal Highness Prince Alwaleed Bin Talal Bin Abdulaziz Alsaud is founder and chairman of Kingdom Holding Company, whose investment portfolio includes major hotel properties, hotel management companies, real estate, financial services, technology, media, entertainment, retail, agriculture, petrochemicals and aviation;
It is worthy to note that this is not the first time the Saudi Prince is visiting Sierra Leone. His maiden visit was in 2003.