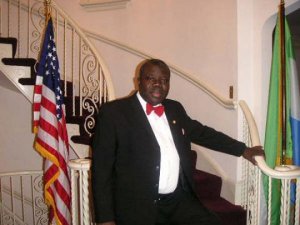 Sierra Leone Ambassador to the United States, H.E. Ambassador Mr. Bokari Kortu Stevens has on Tuesday, August 14th confirmed receipt of a letter dated July 13, 2012 from United States of America Senator Roy Blunt – a republican representing Missouri's 7th congressional district and Vice-Chairman of the Senate Republican Conference – on behalf of Taakor Tropical Hardwoods Inc.
In the aforementioned letter, Sen. Blunt stated that Taakor Tropical Hardwoods Incorporated in Sierra Leone has filed a lawsuit against the government of Sierra Leone (GoSL) for breach of contract, seeking redress for its losses. He encouraged Ambassador Stevens to bring the dispute to the attention of Sierra Leone government for a proper resolution.
Sen. Blunt's main contention is the government of Sierra Leone "suddenly implemented a series of regulations regarding the harvesting and export of timber products from the country as well as the management of resources on the land that Taakor intended to work" and that the company should be compensated or reimbursed for its investments.
Though, Ambassador Stevens disclosed knowledge of Sen. Blunt's letter in his response to a request seeking comments via email, he nonetheless refuted claims of a pending lawsuit by Taakor against the (GoSL) as contained in the letter, he referred any inquiry about the issue to "the highest state officials."
Ambassador Stevens who has been representing Sierra Leone in the US since 2007 also denied any knowledge of a second letter from Missouri Senator Diane McCaskill (Senate Chairman Ad Hoc Sub-Committee on Contracting Oversight and a member of Homeland Security and Governmental Affairs Committee) as was reported in the Tuesday, 07 August, 2012 edition of The New People Newspaper Online.
Sen. McCaskill's Letter in question is dated May 22, 2012 and addressed to Mr. Ed Sandridge – President of Taakor, expressing concerns about the company's problems in Sierra Leone. The letter also informed Mr. Sandridge that Sen. McCaskill has "sent an inquiry to the State Department and have been assured of their cooperation to best determine what recourse" Mr. Sandridge may have.
In his reactions to Ambassador Stevens denial of a pending lawsuit against GoSL, Kalilu Totanji, a Sierra Leonean Managing Director of Bunce Island Media Company and a contributing editor for The New People Online Newspaper currently residing in Silver Spring, Maryland said "there is no way this Ambassador is going to tell us he is not aware that his government has put our country in undue debt because of the bad business dealings of the Vice President with full knowledge and connivance of the President."
Mr. Totanji also contends "on July 4, 2012, a court in Freetown gave a default ruling in favor of Taakor granting the breach, damages and court costs. It is widely believed that the ruling was back dated to create the impression that it was not done to appease the US Senators."
As for the disputed letter from Sen. McCaskill, Mr. Totanji said "it was not addressed to the Ambassador so there is a possibility that he may not have seen her letter."
Reacting to claims of Taakor's pending lawsuit via phone on Wednesday, Reverend Minister Plenipotentiary Mr. Leeroy Wilfred Kabs-Kanu, Head of the Department of Information and Public Affairs at the Sierra Leone Mission to the UN and Publisher of Cocorioko online newspaper said the lawsuit is without merit "it was not a breach of contract and the government of Sierra Leone did not ban logging because of Taakor, the government was only protecting its interests by suspending logging for environmental reasons. The Vice President does not own the forest, no crime was committed, and there is no civil liability."
Minister Kabs-Kanu also argued that the opposition feels "they can win the upcoming elections by propaganda, lying and creating false news reports." He urged Sierra Leoneans "to pay more attention to the socio-economic and political developments being carried out in the country to make Sierra Leone a better place for everybody instead of listening to useless propaganda."
It can be recalled that Taakor Holdings of Missouri and Vice President Sam Sumana were named in a Torts, Property and Fraud lawsuit in Westlake et al v. Sandridge et al filed on November 13, 2009 in Arkansas Eastern District Court in the United States.
In her decision, Judge Susan Webber Wright on July 27, 2010 granted 11 Motion to Dismiss for Lack of Jurisdiction and dismissed the case without prejudice; and finding as moot 23 Motion for Discovery.
Recent allegations of fraud and impropriety by vice president Sumana continues to emerge in the media and this latest lawsuit by Taakor against the government of Sierra Leone is only adding more fuel to the fire.
Excerpts of H.E. Ambassador Stevens response to an email request seeking comments about letters of a pending lawsuit against the government of Sierra Leone from two United States Senators.
Do you acknowledge receipt of any correspondence from Senators McCaskill and Senator Blunt?

A correspondence dated 17th July 2012 was received from Senator Blunt. This correspondence is already in the public media. No correspondence received from the other Senator.
What is the receipt date and what is some of the contents of the correspondence?

This is already in public domain. All I can say is that the letter produced in the opposition paper is a carbon copy of the letter received in my office from the senator. How this was disseminated I don't know.
Is there any pending law suit against the Government of Sierra Leone for Breach of Contract by Taakor Tropical Hardwood Ltd of Missouri?

As far as I am aware and speaking as the Ambassador of Sierra Leone to the United States of America, I am not aware of any such law suit either in the USA or in Sierra Leone.
Is the President or Vice President aware of the pending law suit?

That is a question for the highest State officials.
What is H.E. Stevens' reaction to the New People Online report about the implication of the activities of the President and Vice President of Sierra Leone in relation of allegation of misleading business investors to Sierra Leone?

I would say it is Déjà Vu and electioneering: The letter in question is a none controversial letter that lacks any nexus to neither the President nor his Vice. The President is highly respected in the corridors of power and within the business community in the United States. In addition, Sierra Leone is proud of having a sacrosanct and highly respected judiciary that is transparent with unfettered independence. Aggrieved parties are free to seek redress without fear or favor. This guarantee was given by me to the Senator.